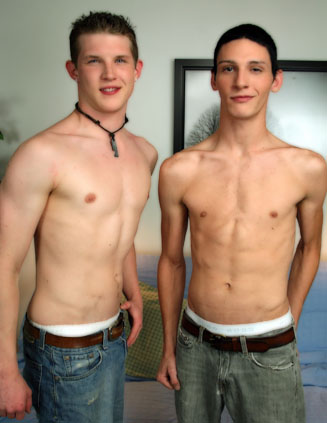 Scott and Gavin were two models that I called up to see if they would be interested in doing an anal scene. It took a lot of talking to, but Scott was willing to give it a try for some good money. We settled on an amount of $1200 to do the shoot, and Scott was going to fuck his first guy. Gavin on the other hand was bi-sexual and likes to both top and bottom. In talking about the positions that he would try I asked him if he would do doggie-style or on his back. Gavin said yes to the idea of doing both. To get things going, I told them that maybe we could do a little rehearsal before the real deal. The guys took off their shirts, and Scott hit Gavin in the face with his arm on accident. Then the guys took off their pants, and got down to their underwear. Moving to his knees Gavin positioned his butt up in the air, and I told Scott to get in behind him. I asked him if he was ready to do some fucking and he said yes.

To get the shoot going I told the guys that we should have a little dick sucking to begin with and then from there we could move on to the fucking. Scott remained standing and took off his boxers. Stepping in closer, Scott positioned his dick right in front of Gavin's face. Swallowing the dick in his mouth, Gavin took it all in. Within a couple of minutes Gavin was rock hard, and enjoying the head. He even admitted it on camera. I asked them to change the couch into a bed, and we would grab the condoms. The guys stood facing each other, and Gavin put on a condom. Moving into position on the couch, Gavin got in behind Scott, and started to put his dick into its first guy's ass. The hole was so tight that Scott was having trouble getting into a smooth rhythm. As Gavin started to relax more, the dick was able to move in and out a lot easier. The faster the fucking seemed to go, the more noise that Gavin made.

The more that they got into fucking the more that Gavin started to sound like a girl with all of his moaning he was doing. That seemed to be a turn on for Scott though, and they kept going. To change things up I told them to get into a different position with Gavin on his back with his legs up in the air. Pulling out they got comfortable again, and Scott got his dick back in there. The two of them were fucking like rabbits and I was catching all of it on tape. Gavin yelled out "deeper" as he was getting pounded by a straight by turned on by gay ass. They were able to keep the fucking up for a while, and made a very interesting video to watch. Scott was getting close to cumming and he quickly pulled his dick out. Throwing the condom to the side he started to jerk off really fast to get off. It took only seconds before he came his load all over Gavin's stomach which was a pretty good size load. Gavin jerked off as well, and after a minute or so, he shot his load all over his stomach as well. Scott said that it was really different than fucking a girl, and Gavin said that he enjoyed it. This was a hot fucking scene to watch.