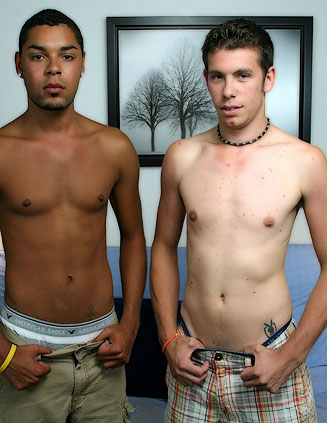 Dexter wanted to come back to do some more work. He had starred with us on broke straight boys before, but recently he has fallen on hard times. With going to school, and working four jobs his time is limited. However, he knows that in front of the camera he can make great money, and has a chance to mess around for fun. Dexter happens to be a great example of gay-for-pay. He has a girlfriend and is straight, however he will mess around with guys for money. In talking about his girlfriend, he lives with her and doesn't get to see due to busy schedules. Sitting next to him was Malachi, who happens to be straight, and has only been in a few scenes with us so far. The most he has done with a guy up to this point was oral, and he seemed to be okay with that. I explained to both of them that I wanted to see them fuck, to make $1000 a piece. In a joking manner I told Malachi that he was the lucky one to bottom. A grin on his face appeared, and he shook his had no. I knew that Dexter would do it, because he has in the past.

I asked the guys to go ahead take off their shirts for me. In doing so Dexter revealed that he had a little bit of a farmers tan going on. Stripping off the rest of their clothes they got down to their underwear on the couch. To get things moving along I asked them to play with each others dick for a minute. They started by rubbing on the outside of the briefs, but it wasn't long before Dexter slid his hand under Dexter's underwear. Both of them seemed to be pretty comfortable and I asked them to try kissing for me. Without fighting my question they each turned to the other one and leaned in. Touching lips softly for a minute, they seemed to get more into it with each little kiss. Pausing they were looking for the next step, and I told Dexter to start giving head first. He leaned over and helped Malachi take off his briefs. He was relaxed and ready to go, Dexter's mouth was able to get Malachi hard in no time. After a few minutes I asked them to switch. Malachi did a great job, and seemed to enjoy giving head. He showed skills.

In order to move on to fucking, I needed for Malachi to be as hard a possible. I knew that a blow job would get his dick right back to being hard. As soon as he was ready they jumped up and got the couch into a bed. Dexter decided that he wanted to start out on his back first for the most comfortable position. Malachi wasn't gentle with the fucking from the start. As soon as he got his dick all the way in, he started pounding the hell out of Dexter's tight almost back to being a virgin hole. Moving Dexter's leg over to the side and turning his hips, he was able to get more of his dick in. The guys were able to keep this position up for a while, and Malachi proved to have stamina. I had to interrupt them in order for them to change over to a new position.

Dexter rolled over and got on his knees, and Malachi got his dick right back in there. Pulling back on Dexter's hips, Malachi was fucking Dexter so hard his ass was shaking. It was hot to watch Malachi shove Dexter's face more into the couch, proving that he was being overly dominate in the shoot. Malachi gave me a warning that he was about to shoot his load. He pulled out and came right on Dexter's back. Dexter's tattoo was covered in cum. Dexter rolled over, and began jerking off. It didn't take him long before he was ready to shoot his load. As he did the cum went all over his hand and dick. It was very white and thick, so it was easy to spot. The guys did a great job, and as always I would love to have them come back for some more work.