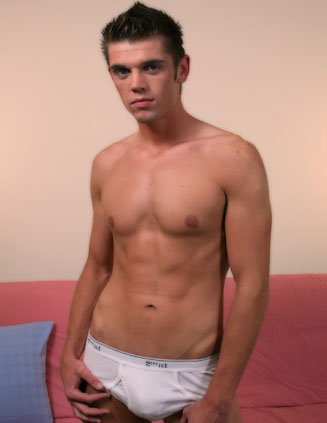 Referral from models has been a great way for us to find fresh, new talent. That was how we met Ace, a 21 year old, straight-curious guy for Broke Straight Boys. He had never been with a guy before, and has only been with girls. Actually he had been dating this girl for 10 months, before he broke up with her about a month ago. Since then, he was fired from his bank position for swearing at his boss on a bad day, and that led him to finding a quick way of making some easy money. He agreed to do a shoot with us, and when he arrived to do a solo shoot he was very excited. We started out getting to know him a little bit better, and he explained that he like to watch porn. In doing so, he got turned on by seeing the guys mostly, and still stated that he had never done anything with a guy before. Ace lives at home with his parents while he goes to school, until he can afford to move out on his own.

The purpose of starting him off in a solo was to make sure that he was going to do a good job, before putting him with anyone else. I told him to take off his shirt for me, and in doing so he asked if he could stand up. As he did so, I had to step back, because he was so tall that I wanted to be able to get most of him in the shot. Ace said that he liked to workout, and it showed from his body being tone. We found out that he has size 11.5 shoe, and he laughed about joking around about the possible size of his cock based on that. Stripping down to his underwear, I want to get a good look over his body and what kind of underwear he had on. As he pulled one leg out at a time, he was wearing a pair of white briefs. He spun around to show off his body, and that is when I saw that he didn't have any tattoos. I questioned him about it, and he said that he wanted to get one. His thought was to get a bull somewhere on his shoulder or upper chest to represent his sign. I had him do one more turn around for us, and had him show off his ass. Pulling the briefs down, he had a nice tan, bubble butt. I had him spank it for me, and then even pull it apart to try and get a shot of his asshole.

Taking off his underwear, Ace took a seat on the couch and started to stroke his cock. He reached for the lube bottle on the side and applied a handful to his dick. Stroking his dick he did a couple different positions for us. Sitting back with one foot up on the couch, standing, and then laying to the side on the couch. He has a very nice body from head to toe, and there wouldn't be one thing that I would ask him to work on or change. His dick grew harder and seemed to be getting close to getting off. Ace laid on the couch watching the porn, stroking his dick pretty fast. I moved close to his feet and as I taped him stroking his dick, I noticed that he had huge balls. Jerking off as fast as he was I knew that it wasn't going to be long before he bust a nut. He was rubbing his asshole or possible fingering himself a little bit with his other hand. If he liked his butt being played with, than I take it he just might bottom for us in the future.

Ace let out that he was going to cum, and his body started to shake all over the couch. Going up and down his body was having an orgasm. He came on his stomach, and with his skin being as dark as it was the cum stood out and it was a pretty good size load. As he laid there for a moment catching his breath I told him that he reminded me of a young, gay porn star that I remembered. I told him to go home and Google him to see what he looked like. Ace was hot to watch and he said that he would like some more work with us. I will get to work on seeing who I can get to work with his new hottie that we have on board here soon.