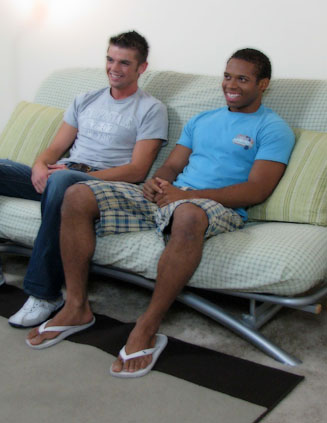 I invited Axel and Ace in to do a shoot, and I just left what was going to happen in the shoot open. This way they wouldn't worry about what they would have to do on camera. The two boys sat on the couch, and I started with introducing Axel, who is 21, straight, and currently likes to play the field by not having a girlfriend. Ace is 21, straight, and broke up with his girlfriend about a month ago. So, he hasn't really messed around with any other girls yet. Both guys were broke and were planning on spending their money they made from the shoot on bills. In the hopes that I could get them to do more on camera I gave them both a proposal. If the two of them gave oral in the shoot, I would give them $500 and allow them to do a shoot for broke straight girls. Talking back and forth between them if they would do oral in the shoot, it was finally settled that Ace would at least give and go first.

Both of them started by taking off their shirts and neither one said they ever messed around with a guy before getting in front of the camera. I asked them if it would help in the shoot for me to put on a video. As they stripped down to their underwear, I worked on getting the DVD going. I told Axel to make sure to tell Ace how he likes getting his dick sucked, because lets face it a mouth is a mouth. Taking off their underwear they seemed to be a little uncomfortable, but Ace was ready to get started. He leaned over and took a hold of the cock, and started sucking. Watching them do their thing, it seemed like Axel was enjoying it because his cock grew hard from the blow job. Ace would suck for a little while, and then would lick the shaft of his cock. Axel placed his hand on the back of Ace's head pushing down in a steady pace that he liked. When I asked him if he liked it, he did say yes.

To try and turn the table around, I asked Axel if he would suck on Ace's dick for some more money. I raised his paycheck, and he agreed to try it. Ace had never had his cock sucked by a guy before, so I was curious to see what would happen. Axel put the limp cock in his mouth and started sucking. Ace tilted his head back, and would try to focus on the porn that was playing. Ace was having a difficult time getting hard, and I even tried walking out of the room. I had them both jerk off for a little while to see if they would get hard, and Ace tried using some lube to help. Once Ace was hard I left him standing and just had him move in closer to Axel to have him continue giving him head. After only a minute Ace's cock went limp again, and we had to stop. Just so I could get some more oral action, I had Ace go back to giving Axel head. He seemed to be pretty good at it, and kept the cock hard. Ace even jerked him off for a while to see if he could get him off, but the straight guys weren't getting each other too excited.

Both of them were jerking themselves off in the hopes that I could get them to cum. I didn't know if that was going to be possible. I shut the camera off and left the room for a bit. When I walked back in Ace was hard, and stroking his dick pretty fast. I moved in closer to him in the hopes that he would be blowing his load at any moment. Sure enough his breathing changed, and he came squirting his load all over his chest and stomach. His load had a slight white tent to it, and very runny. Then the pressure moved over to Axel, and him getting off. I left the room again and just waited for a bit. However, Axel told me at one point that he really didn't feel like he was going to be able to get off. I told him that I couldn't pay him the full amount, but he would still get something for doing the shoot. I would see if they got a little more comfortable I could get them in some more work. Still some hot ass guys to watch jerk off and suck some cock.