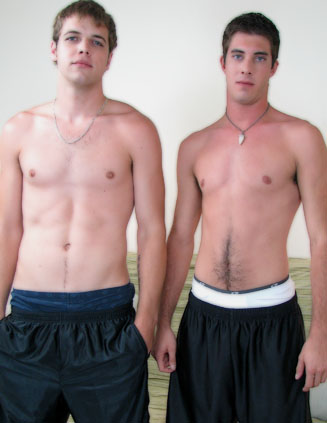 With the way that our economy has been going I have models calling me left and right looking for any extra work for money. Going through the list of calls and models, I ended up putting two straight boys together that have worked with us before. The first was Diesel who has been spending his money on partying and having a good time rather than paying off the things he needs too. Danny on the other hand has spent his on moving into a new place with his girlfriend, who has high priced demands. The two of them had starred in a threesome shoot together before, so I knew that they were comfortable with each other. I had the idea that maybe I would finally get Diesel to at least try bottoming. I didn't give him a warning before the shoot was to happen, so that I could put him on the spot. With the lights, the camera, and everything going on the pressure would be on for him to say yes. I kept to raise the dollar amount, and he still continued to say no.

I knew that I was being shut down by the idea of Diesel taking a dick up the ass for the first time. Diesel said that he wasn't ready; however there is a possibility in the future of it happening. There is a light at the end of the tunnel for us to see him drop to his knees and stick his ass out for a dick. Turning the camera over to Danny, he knew what I was going to ask, and that was for him to bottom. Danny said that he would do it, and I promised him that the next shoot I would have for him he would top. Hopping to their feet they took off their shirts first, and then dropped their pants. Right after that they dropped their underwear. We joked around about the guys having sex with a tranny, and Danny said that he would much rather do a fat chick. The guys took a seat on the couch, and started playing with their cocks to get them hard. After a few minutes I needed them to start to interact with each other more. I told Danny that I wanted him to give head to Diesel.

Climbing down to the floor in front of Diesel, Danny positioned himself on his knees. Reaching forward he took a hold of the cock, and lowered his head down to it. Danny placed the cock between his lips and took about a third of it into his mouth. Diesel let out a reminder for Danny not to use his teeth, and that was something that he laughed saying. When it came to giving a blow job, Danny only took about a half the cock at a time. After a few minutes, Danny seemed to get it down to a pattern and was able to start to cause Diesel to enjoy it. I could tell that Diesel's dick was about as hard as it was going to get from the head he was receiving. I told them to go ahead and stand up for me and grab a condom. Danny was getting nervous and I could tell from his responses that he just wanted to get it over with. Climbing on to the bed, he got in the doggie-style position and put his face in the bed. As Diesel started to place his cock inside, Danny was tensing up causing Diesel to use more place. Once he was all the way in he was able to start to move a little easier.

Danny was letting out a lot of noise as he was getting fucked by such a big dick. I was impressed to see that he was able to let Diesel ride him like he was. The harder and faster the pounding seemed to get the more that Danny seemed to hate it. Slamming his fist down on the couch and just trying to put up with what was going on. Diesel had to pull out to get his cock fully hard again. With not being able to keep the fucking at a steady pace he was having difficulty keeping hard. However, once he was good to go, he got his dick back in there. I asked them after a while to change positions, and Danny rolled over onto his back. He propped his butt up on a pillow, and grabbed hold of his legs. Diesel was able to get his dick back in the tight hole. I reminded Danny to jerk himself off in the hopes that he would concentrate his mind on that. Diesel seemed to keep at a better pace in this position and the two of them kept going. Diesel then decided that he wanted to change position and he laid on his side, spoon fucking Danny in the ass. Danny seemed to put up with this position better only having to hold up one leg, and Diesel was helping with that.

After so much fucking I finally heard a warning that Danny was about to cum. Before much could be said, he came his load on his lower stomach. It took a minute for Diesel to pull out and throw the condom away. Danny positioned himself on the bed to be a little more comfortable while he waited for Diesel to get off. Diesel was on his knees on the side of Danny positioned to shoot his load onto Danny's stomach. As soon as he came he shot his load hitting the other side of the bed a couple of times. However, Danny still got a good amount of cum on him. The guys did such a great job in this shoot, and it was hot watching a straight boy take a dick just to make some money.