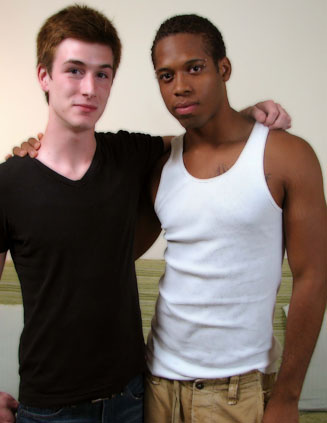 Axel had came in for a shoot that I had set him up with and he was going to get his dick sucked by a guy for the first time. The shoot started out just like any other shoot, and we talked in the beginning. After that they got undressed and started to jerk each other off. The plan was to have Axel get his dick sucked, but he wasn't getting hard at all. After a while I asked Axel if he just wanted to quit and he said no. I told him that he would have to give oral to a guy if he wanted to make any money for the shoot. He thought about it for a while before giving me an answer that he would. Axel seemed to do fine, and sucked cock for a few minutes. After the guy got off I told them both that I would see what I could line them up for more work. I told Axel that I would have to think about bring him back since he didn't get hard.

I received a call from Drew one of our newest models who was looking to get paired up with a guy for the first time. I asked how he felt about black guys and there was the sound of excitement in his voice. After I got off the phone with him, I called Axel to see if he would be interested in giving the modeling another shot. Drew and Axel were setup to come in for a shoot. I explained to Axel right away that when he showed up for the shoot that I paired him up with a bi-sexual guy who was looking to have his first experience with a guy. Since Axel already gave head for the first time, the plan was to have Drew and him give oral to each other in this shoot. I started them out by asking them to take off their shirts. As they did that, I made small talk by asking how they spent the money they earned so far from modeling. Axel used his money to pay bills and Drew put his in his bank account. To see if there was any sign of attraction going on between them, I asked them to stand for me facing each other. My next plan was to have them undress each other. One by one they took the other one's clothes off down to their underwear. The two of them were standing in their semi-nude, and I asked Drew to play with Axel's dick. It only takes a few awkward seconds before Axel started to touch Drew's dick as well.

Getting down on his knees, Drew pulled Axel's underwear down just enough to expose his dick that was semi-hard. Drew put the dick in his mouth, and started to suck for the first time. Like most typical guys Axel was pushing down on Drew's head to make him keep going. I asked him if it was good, and he said yes. His response was that Drew was much better than the first guy. Moving over to the couch, Axel stripped off his underwear and sat down. Drew followed the dick and started to suck on it once again. In this position it was much easier for me to be able to tell how hard Axel was and how much dick Drew was able to suck. After a while Drew stopped giving head and moved on to just jerking Axel off with his hand. Keeping a very steady pace, Drew tried to stroke him off as fast as he could. Drew's arm was getting tired after a while, and he was working up a sweat. Axel let out that he was about to cum. He came shooting his load on his lower stomach, and had a pretty good size load for just getting off the other day in his solo shoot.

After Axel cleaned up from the cum that covered his stomach, he moved over to the couch. I told him that it was now his turn to giving head to Drew. Standing in front of Axel, Drew stepped forward to get his dick sucked. Axel started by jerking on the limp dick a few times to try and get the blood flowing into it to make it easier to suck. He placed the dick in his mouth and pulled back. As the dick came out he did it again. It seemed like nothing was happening at all after a minute or two. I asked Drew if he wanted to sit down in order to make it easier to relax. They moved over to the couch, so that they could continue. I was standing back watching, and it seemed like Axel seemed to know how to suck dick. With his right hand, he placed it just above Drew's cock to hold it and jerk off the dick on occasion. While he would suck dick he would play with Drew's balls with his left hand. Axel was trying to arouse Drew as best and quickly as he could to stop sucking dick. After a while, Axel's mouth was getting tired and he was doing a little more jerking off. However, the technique seemed to be working because Drew seemed to be relaxed, and looked like he was getting closer to having an orgasm. As he laid there getting a hand-job with his body fully stretched out, I didn't show it, but Drew's toes were curled. Drew was pinching his nipple, and I heard a faint warning that he was about to cum. He came shooting his load on his stomach, and because of the motion Axel was using with his hand, he got some on him. The guys did a great job, and showed a sign of interest in doing more. I knew that they were distracted by the cum on their bodies and so I told them to go get cleaned up and we will see what we can line up for them next.