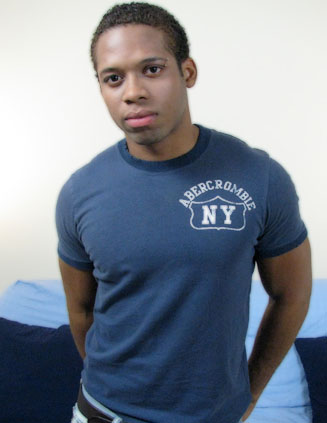 I want you to meet Axel our newest model, he is currently going to school for communications. He is at the young age of 21, straight, and broke. In his casting couch call he said that a buddy had referred him to us to make the money that he needed, and that took him to the website. I brought up the fact that there are guys doing things with guys on the site. Axel seemed to be okay with everything as long as it stayed within his comfort zone. He knew that he was going to have to start out with just jerking off on camera first, before he could do anything else. Axel has never been touched by another guy before, so time will tell us how much he will do on camera.

Peeling off his shirt underneath was a tone, muscular chest being revealed for our eyes for the first time. Axel said that he used to play football in high school, now he only does for fun with friends. However, he still dedicates himself to three days a week in the gym. Standing and giving us a spin, he had a couple of tattoos that I could see. Taking off his pants he stripped down to his briefs. As he was standing there I could still only see the top of the tattoo just below the waist band of his underwear. I reached forward pulling them slightly down, so I could get a look at the tattoo. It was the superman symbol. Looking at his pubic hair it was neatly trimmed. Spinning around I asked him to show his booty for the camera. Axel let me know that he was around 180 pounds, and had a seven inch hard cock. I explained to him that I would put on some porn for him to watch and to get hard.

Rubbing his cock in an up and down motion on top of his underwear to work on getting his dick hard. Axel was nervous, but I knew that he was looking to make some money to get himself out of the debt that he got himself in. I reached forward and grabbed his cock over his underwear. Feeling it in my hand it was a good handful and almost rock hard. He didn't seem to mind, and he kept his eyes on the porn. Peeling off his underwear he showed his dick to us to see first time. I jerked him off for a moment to see how he would handle it, and could see that he was pre-cumming as well. To get a different view of his body, I had him stand for the camera. While he was only a foot away from me I was able to get a shot of his dick from above. It was huge! Turning around he showed me his bare ass, and I felt his smooth butt with my fingertips.

Taking a seat back on the couch, he applied some lube to his dick. I moved down to the floor in front of him, so that I could shoot up getting his cock and face in the picture at the same time. As he was stroking his cock, I asked him some general questions to get to know him a little better. He told us that the girls that he typically likes to go for are 18 to 25, hot, and he loves big tits. The last time he had sex was about three weeks ago with a girl he met at a college party, and she gave great head. As far as a crazy, sexual moment he told us that he was handcuffed one time. A couple different times I reached forward and jerked him off to see who well he was going to do with a guy touching him. He didn't seem to mind. Getting into a more comfortable position he laid down more on the couch and at an angle. His hand motion started to get faster, and he was working on getting off. As I waited and watched I noticed that he was concentrating on what he was doing. Letting out a warning that he was about to cum, I prepared for the cum shot. He kept his hand going at the same speed, and then he came. Cum was going all down his hand and on to his lower stomach. He kept squeezing his dick to get every drop of cum out.

Axel said that it felt great and that he would do some more. I explained that he would have to do the next scene with a guy and he seemed disappointed. I told him that we would take things a little slow with maybe some dick sucking, before things got to the fucking. Axel wanted to make more money that just the $200 he made for jerking off, and he would make more money with just having a guy suck his dick. He seemed like he was down for it, and I will get to work on seeing who I will line up for him.