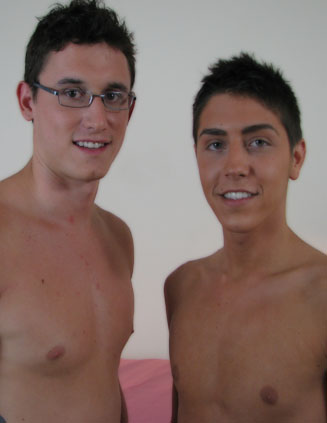 Let me introduce you to our newest model to visit our studio, Derek who traveled to see us from Phoenix. When he came to see us for his first shoot, we sat down with him to do a little get to know. Derek said that he is straight, has a girlfriend, and to my surprise she knew that he was doing porn. One of the reason's Derek wanted to work with us was because of BrokeStraightGirls.com and the idea of working with girls. I told him that we would have him do a little solo video first to see how he would do and then from there we would look at him doing more. For the members watching if you haven't figured it out yet, I love surprises and have no problem springing something on a model. I told Derek that I did have someone that worked for Broke Straight Girls in the building during his shoot and that the person might join in to help out. Derek started to show that he was excited to meet one of the girls, and I told the knock at the door to come in. Right away, his jaw dropped when he saw a guy walk into the room. I introduced Corey the stylist on the site, and that he got all the girls ready before their scenes.

Derek was completely anticipating a girl walking into the room, and with Corey he was in shock. I explained that we're a site about guys, and hint the guy. To see if we could get started, I asked to see if Derek would jerk off next to Corey. He said no, and I even offered some more money. He told me no, and then turning to Corey, I talked to him about what the guys get paid on Broke Straight Girls. Corey had no problem with trying to see how much we could get Derek to do on camera. He said that Derek was cute, and with that comment Derek got a little nervous. I raised the amount even higher, and Derek changed his answer. With a yes, we started with Derek taking off his shirt and he tossed it to the side. Corey wanted him to show off his body a little bit more for him and the camera. Standing up Derek turned around modeling off his body, and we could see that he was tone, and had a couple small tattoos here and there on his upper body.

Moving on to seeing the rest of his body, Derek took off his jeans and had on a pair of black boxer-briefs underneath. Derek was in great shape, and we talked about how he like to workout at home more than going to the gym. It showed, because at one point I had him turn around to show his booty, and he had a bubble butt going on. I noticed in the front that Derek shaved all of his pubic hair off, and that he prefers that. To me that was surprising considering that it's becoming the opposite on the gay side. Derek took a seat on the couch to start playing with his dick. I put on porn for him to watch in the background, and the two gay boys in the room just got to watch him. As Derek zoned into the video, Corey was getting hard of course watching a straight boy jerk off live. Corey took off his shirt, and kept watching. Derek on the other hand was getting harder, and we saw that he did have a huge cock. As Corey got undressed to show off his cock, Derek stood up for me to get a better shot of his dick. The thing was a monster, and it continued to grow. Derek returned keeping his distance from Corey.

Corey loves big dicks, and so he moved in closer to Derek. This caused Derek to jump and move a little more towards the end of the couch, but he got back to watching the video after a moment. I knew that it was going to take a while for this straight boy to get his huge, giant cock to getting off. Sure enough I was right, but as Derek's hand started increase in motion, I knew we were getting closer. He gave me a warning that he was about to cum, and seconds later his load squirted out on his chest. I was glad to see that he could get off that big of a load. Right as soon as he came, Corey let out his load, but forgot to give me any kind of a warning. Corey made a comment that he would have like to have had that load in his ass. Derek just laughed it off and smiled. The two did a great job, and Derek is one of the guys that we haven't had in a while that isn't at all open to guys, so we will have to take things slow, and hand out a lot of money to see him do more. Let's see if he returns my call next week.