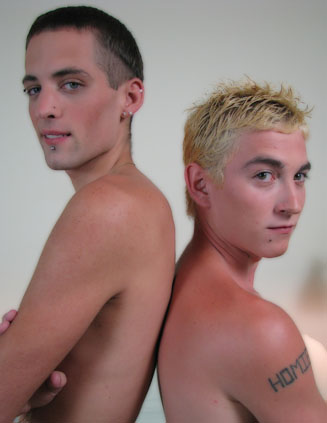 Both of these guys have done solo work for us before, and were interested in making more money. To refresh everyone's memory, Jeremy is 22, gay, and from a small town in New York. Joe on the other hand is 20, straight, and a local boy. Joe knew that he was going to have to do something with Jeremy in the shoot. We just really didn't talk about it off camera, because I knew he was nervous. He said that he had been around some gay boys at parties, but really didn't spend that much time with them. But, at the parties he had some giving him beer to get him drunk. I gave both of them an idea that I wanted to see Jeremy and Joe do some oral with each other, and we would have the gay guy go first of course. Joe didn't give much of a response so, I told him that Jeremy could start out with a hand job. Joe's mind started to think, and he wasn't down for everything like I had hopped. I then caught myself trying to talk him into just jerking off next to a gay dude.

Joe knew that we were going to have to start somewhere if he wanted to make some money. Joe took off his shirt, and then was ok with going the next level of taking the pants off. I had Jeremy take off his shirt, and he sat on the couch in his shorts. I had Joe reach for one of the toys that I had under the table to the side of the couch. It was a fleshlight, and was made for getting guys off with easy work. It took a little team work to get the lid off, but they seemed to manage. Joe stuck his fingers inside and described it as wide mouth. I told him to put some lube on his dick, and once his cock was hard that toy was going to become one of his best friends. He laughed at me. The guys stroked their dicks with lube to get hard, and when Joe was hard he started to use the fleshlight. After he seemed to be comfortable with using it, I asked him if Jeremy could try using it on him. He didn't really seem to mind and was ok with trying it. Things seemed to be getting better in the shoot, so I asked if Jeremy could just jerk him off without the toy.

Joe started to like what he was feeling, and was moving into a blank state of mind. The guys kept going like this for a little while, and then I let out the question of Jeremy sucking Joe's dick. I told him that he lets a girl do it, and that this would be no difference other than the fact that the other person had a cock instead of a pussy. At least agreeing to try it, Jeremy put Joe's dick in his mouth. After a moment, Jeremy started to put his head back a little and forget that it was a guy. Then, the moans started in, and everything was great. Here was a straight boy, getting his first blow job from a guy and loving it. We were on such a roll, that I thought I would see if we could pushing things a little more before we tried to have them finish.

I asked Joe if he would try and give Jeremy a hand job, there was a little hesitation there, and then he agreed to do it. Just as he took a hold of the cock, I threw out the idea of him trying to give head for the first time. Something that 15 minutes ago he had said no to. Jeremy avoided saying anything or giving any direct eye contact to Joe to make him anymore nervous. Joe leaned over and put the cock in his mouth without saying a word to me. We reached yet another new milestone in this shoot, and that was a straight boy giving head for the first time. Joe put the dick in and out of his mouth in a nice, smooth motion. Even played with Jeremy's balls at the same time as sucking dick for extra enjoyment. Jeremy was enjoying it, to the point where he wanted Joe to continue, so he stroked Joe off at the same time. The guys were doing great and I was able to just stand back and let them do their own thing at this point.

Both guys went back to jerking off, and I offered them some more money to see who would get off first in the shoot by making an extra $100. Joe was the loudest in moaning of the two, and he stroked his cock a lot faster than Jeremy. However, it was Jeremy who let out that he was going to cum first. He came the same thick, white, load just like he did in his solo shoot. In the middle of it, Joe announced that he was going to cum, and he shot his load up the middle of the chest. I asked if they wanted to come back and do some more work when they were getting their air back. To avoid any no's right now, I just told them I would call them in a couple of days to let them know what we would try and figure out what. We will have to see if fucking a dude is something that Joe could possibly handle.