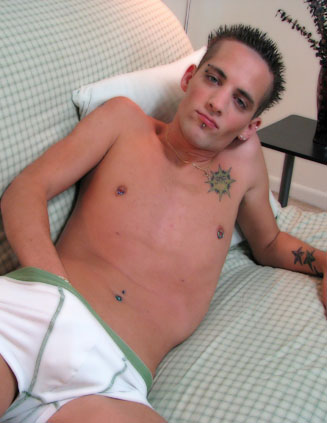 Jeremy is visiting us from a small town in New York, and he is use to a small town atmosphere. He said that everyone knows everyone, and to escape that he was excited to be down in Florida. Jeremy contacted us, because he was a fan of the site. Being in a small town he is the only "out" gay boy in town. With that being said, he told us about how he calls himself the converter. Not that he goes around trying to do it, things just kind of happen for him. He messes around with straight guys who happen to have a couple of beers, and get a little frisky. I told Jeremy that we usually have scenes with straight guys, and that what we would do for his first shoot was a little casting couch video. It was going to be a little solo shoot, where he would get off, and then we would pair him up to mess around with a straight boy.

To get going with the shoot, I told Jeremy to go ahead and start getting undressed for the camera. He peeled off his tank top, and threw it on the floor. Standing up, he slid his pants off and was standing there in his little trunk briefs. There were some piercings that stood out at first, but really all the tattoos that he had over his whole body were making me look him over from head to toe for more. I found out some of Jeremy's stats, he is 6'1" with a 7" hard dick, 155 pounds, and has a size 11.5 shoe. Taking off his underwear, he took a seat on the couch to start to play with his dick a little bit. I told him to do his own thing, and then when he felt like he was getting close to getting off to give me a warning. Jeremy used a handful of lube to start to get hard as he working on stroking his dick. After a moment, he realized that he had put on too much lube on. I handed him a towel to wipe a little bit of it off. He leaned on his side, and just kind of took his mind somewhere else as he stroked his dick.

Grabbing his package, Jeremy squeezed it trapping the blood in his cock. I am sure that nerves were getting to him a little bit, but he was breathing for me nice and loud. And moving his whole body with his hand movements, which meant that he was truly jerking off like he would at home. Jeremy bit his lip as he turned himself on, and watched some porn on the background that we had going. The more time he spent touching his dick, the bigger it got. It was turning into being a monster in size that could cause great pain to a virgin straight boys' ass. Jeremy let out that he was going to cum, and his breathing pattern started to speed up. The faster it got the more I knew that he was about to shoot his load. He came, having it go all over the side of his dick, and it was very thick and white in color. He took a second, and then looked up at me, with a look of what was next. I told him that I would give him a call as soon as I could match him up for a converting experience with a straight boy. Stay tuned to see which straight boy Jeremy gets his hands on.