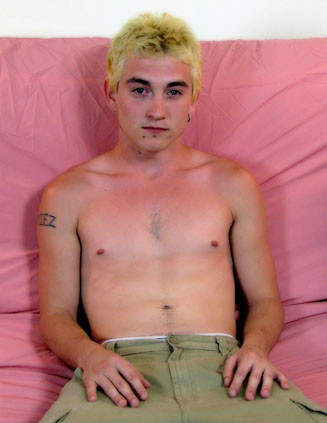 Joseph or Joe is 20 years old, straight, and never been on camera before. On the phone setting up Joseph's shoot, he asked me how he could make as much money as he could with our studio. I told him that he was going to have to fuck around with guys, and he responded right away that he had never done anything with another dude before. That being said there was a long quiet pause on the phone and at one point I remember asking if he was still on the line. I told him that we would start him off with a solo shoot, and then take the guy/guy thing one step at a time. We got into how Joe found us in a local ad that we run for models and called us up. I do make it a point to tell all the guys up front that we're a gay owned and operated studio. Just so when they walk through our doors there isn't that big surprise. He said that was fine, and we agreed to a time and date for him to come by.

When he showed up for his appointment to do his first shoot, he was very nervous. I told him that we would just start rolling the camera, and I would explain everything to him as we went along. Especially, in solos it's my first chance to really get to know the boys, and see if they're going to sticking around the studio for more work or fad away. As I started to fire off questions to Joe he called me Sir several times, and it wasn't a big deal. I just told him that we weren't doing anything formal, so there was no need. The next time he did it, I told him if he kept it up, I was going to have to spank him.

All that Joe was going to do in the solo was jerk off, and to do that the first thing that we needed to do was get him naked. I asked him to take off his tank top. I noticed and called out that he wasn't a natural blonde, and he said that he is a brunet. Joe stood for me, and I was able to see that he was in good shape, pale white skin, semi-tone, jock/twink build to his body. He stands 5'7", 130 lbs, and has two tats on his body. Taking off his sandles, he worked on taking off his shorts, and he told us that he has been with 15 girls. I tried to test him one more time, and asked him if he had ever been with a guy before. The response was no, and he just smiled back at me. I had him show his butt to the camera, and he had a decent bubble butt going for him. Asking him to lean down I had him show it off a little more to the camera, and he did mention that a couple of different girls had tried to put a finger in his ass during sex.

Joe played with his dick in his underwear, working on getting hard for the camera. He told us a little more about the store of his hair getting bleached, and it involved some liquor in a backyard. Joe had manners and asked before he did things, like when he wanted to take off his underwear to get a little more free motion with his hand. I told him that was fine, and got my first look at his dick. When it gets hard, he said it's around 6 inches. Plus, he also told us that he is a shooter, and that he hadn't shot a load in about a week. Sitting on the couch he stroked his cock pretty fast while he watched porn and changed his seating positions a couple of times. I don't think that his dick got fully hard, but he did have a giant set of balls bouncing around. He started to relax a little bit and put on a show. Playing with his nipples and rubbing his body was eye appealing.

Joe told me that he was going to be cumming soon with a warning, and I told him that anytime was fine. It was only a few seconds later that he came, a massive runny load all over his lower stomach and hand. He said that he felt a lot better after that, and his hand came off of his cock for a moment giving us a better idea of his size. I told him that we would give him a call later on in the week, and see what we could do next. Joe seemed nervous, but I think will love being on camera for the members.