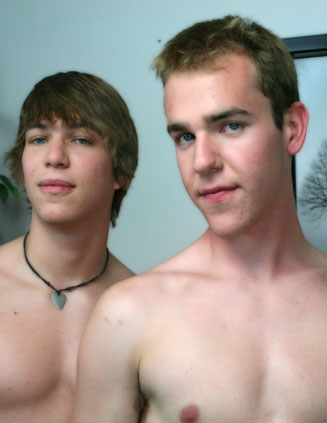 Alden called me back after his solo shoot and he was able to talk Robert into wanting to give the modeling work a try. They both said that they needed to make some money, and were ready to do some work. One was planning on paying bills and the other one wanted to buy a bike. I had them stop by the studio, so we could do a shoot and see how comfortable they would be doing a scene together. When they arrived we moved into the shoot room and I had the guys start by reminding members a little bit about who they were. Both guys were going to school at the local university, and Alden had a girlfriend. He told her that he has been modeling for a superstore doing ad shoots for money. With economic times being as hard as they have been, I told them that I would offer them a good deal to give each other a blow job and hand job. There wasn't much hesitation there as I thought that there would be from both of them, especially Robert.

To get things going in the shoot I asked them to take off their shirts to begin. In doing so we talked about them liking to workout, and Robert seemed to be in a little better shape than Alden. Responding Alden, said that he liked to drink beer at all the frat parties. I then had them take off their shorts to continue on and I could tell that Robert was getting more nervous with less clothing on. To make things a little easier, I told them I would put on some porn to help them get hard. Grabbing their dicks they worked on stroking their dicks through their briefs before revealing to the camera. Alden seemed to be doing just fine for this being his second shoot and I had him hop to his feet in front of the couch. Standing their in front of me he played with his cock and we could see it through his white briefs. Reaching forward and grabbing it with my hand I copped a feel of the raging hard on that he had. I had Alden take a seat back on the couch and in panning the camera over to Robert he seemed scared like I was going to reach over and take advantage of him. I told him he was safe.

Asking both of them to stand for me, I had them face one another in front of me. Both didn't make direct eye contact with one another, but kept touching themselves. Having Robert go first, I had him reach forward and touch his first penis, which so happened to belong to his dorm-mate. Touching on the outside of the briefs at first, he pulled them down and went for the real deal. He was giving his first hand job! I then asked him if he would go ahead and start to give a blow job. Looking at me he was a little puzzled on how to begin. He bent over and started to take the dick in his mouth. I instructed him to get down on his knees and put it in his mouth. Doing so, he would put about the first two inches of dick in his mouth and then take it out. Repeating this as fast as he could, Alden seemed to be enjoying it. To make them a little more comfortable, I had them move over to the couch and kind of get in a laying position. At one point I even gave a couple of pointers on how to jerk and suck at the same time.

After a while, it seemed like it was time for Alden to get his mouth full of some man-meat. Telling him to give head, he didn't waste any time in putting a dick in his mouth. Alden looked like he did a great job giving head for the first time. He did so and then started moving on to giving a hand job. I handed him a bottle of lube and he applied it to Robert's dick. In stroking his dick, he was able to get him very excited for a while, and I thought that at any moment Robert was going to pop his load. I was so excited to see this young, hot, and steamy cum load spray all over his body. In doing so, I did get a warning that he was about to cum. As he came, Alden kept up the pace with his hand, and was having an orgasm. Then, we got them cleaned up and it was Robert's turn to try and get Alden off. Alden seemed to enjoy the blow job that Robert started with, and then moved to jerking him off. It only took about half the time for Alden to shoot his load all over his chest. Some of it landed on his shoulder as well, meaning that maybe this guy/guy action got him really turned on. I told the guys that I would give them a call sometime soon and have them do a shoot that would involve some more guy/guy work. Keep watching!