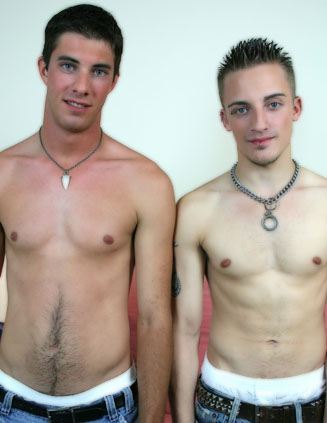 One of the guys that we recently had do some work with us, is a hot, young guy, by the name Danny. He did his first shoot with us on CollegeBoyPhysicals.com and he got a great response. Danny was nervous in that shoot, and he just wasn't able to get off at the end. I for sure wanted to bring him back, and figured maybe the doctor thing wasn't something he would be good in. I paired him up with Ryan another one of our new guys that ended up doing a solo shoot with us. With both of them being new I figured that things would go pretty smooth between them. Danny was clear in saying that he was straight, and I know that he was open to some things though, since he needed to make some money. Ryan said that he was straight, but a little curious. Knowing that Ryan is pretty comfortable with himself, I called him out on saying he is curious. I asked him what he had meant by saying that, just because I think a lot of guys are "curious!" Ryan said that often he would be out somewhere and would check out a guy; however he never acted on it.

Both of the guys knew that they were going to be jerking off next to each other and touching the other one. However, I through in a curve ball to the straight boys asking if they would do a little oral action for the camera. Neither one seemed to be opposed to making the money, and didn't objected to getting started. Removing their shirts they sat there waiting for me to give them more direction. I noticed they both had pretty smooth chests, and seemed to have flat chests. Danny said that his source of working out was playing sports, and Ryan on the other hand came clean that he was a pot head with his spare time. Both guys stripped down to their underwear, and I found out that it had been a while since the last time that they got off. Sitting there on the couch I asked them to work on getting hard, and to help them out I would put on a straight porn for them to watch. I noticed that Ryan seemed to have something big in his boxers moving around. I asked him to show it to me, and he pulled it through the fly revealing a big cock. He said that he was around 7 inches. Getting to his feet, he showed off all of his naked body to the camera, including his butt.

Next, I had Danny do the same as far as showing his baseball body off to the camera. His cock wasn't getting fully hard yet, but I knew that it was just going to take some more time. The two of them jerked off next to each other on the couch for a bit, and I just stood back to let Danny get a little comfortable on camera. After a while, I popped the question of having them kiss. I told them that two guys kissing was something that we got a lot of requests for from the female members of the site. We went through the process of more money to do it, but both were down. Leaning over the two looked at each other, closed their eyes and moved in. Kissing each other, they did so very softly, and paused a couple of times during the kissing. Afterward, Ryan complained that his cock went a little soft. In order to change that I told Danny to suck Ryan's dick to get him back hard. Glancing down, Danny looked at the cock, and dropped to the floor on his knees. Grabbing the cock in one hand, he put the dick in his mouth for the first time. Danny was sucking his first cock. As he did so, he chocked a couple of times, but seemed to get it down. I told Danny to try and lick Ryan's balls a couple of times. Ryan seemed to enjoy it, and said "a mouth is a mouth" when it came to a blow job.

Knowing that it might take Danny some time to get hard, I had Ryan take his turn at giving head. It happened slowly, but I noticed that as Ryan started to give a blow job, Danny's dick was getting harder. With some more time, full on boner was what Danny had to show from it. Ryan was deep-throating that cock and taking it to the back of his throat. There were a couple of times that I thought that Danny could shoot this load from the reaction he was giving on camera. Ryan moved into stroking his cock using some spit, and I watched hoping that we were going to get a big load. After a while, Ryan felt that his arm was just going to fall off from stroke the jock's dick for so long.

The two of them jerked off to the porn with lube, and I offered the first one to get off an extra $100. Hoping that the extra money might cause Danny to step up his game for the camera. Ryan though let out that he couldn't hold back any longer, and I gave him the go ahead to getting off. He shot his load, and came all over his hand and dick. His load was very thick, white, and just huge. He took a moment to calm down after his orgasm. Panning the camera back over to Danny it was his turn now to finish things up. I knew that Danny seemed to like getting the attention and just having that body contact with someone else. I asked Ryan to kiss Danny some more, and touch his body. The two boys did so much more kissing, I think they were enjoying that. Danny fucked his hand and Ryan was getting close to rubbing his finger over Danny's hole. The two were so busy being into each other that I got a quick warning and then Danny came all over himself. One thing is for sure that caught my attention and that was Ryan reaching over and touching Danny's cum. Glad that the two of them did suck a great job that I hoped to bring them back for some fucking next time.