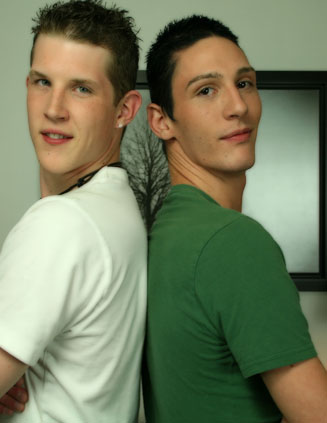 Scott came back for another shoot like I had hoped. Things have been busy with lots of straight guys looking for work, and so when I didn't call Scott back he got a little worried. He called me to make sure that I was happy with the solo shoot that he did and to see if I would give him any more work. Solo shoots are hot to get a first look at a straight boy and see if he would possibly do more on camera. But, lets face it; we want to see fucking, sucking, some kissing, and some hot rough sex. Without wasting any time, I told Scott that he would have to do an oral scene if he wanted more work. We agreed on a day for him to come by for a shoot, and I got to work finding another guy to pair him up with. Doing some really hard thinking, I decided to go with AJ's cousin for a first time shoot. His name was Gavin, and he considers himself bisexual. He likes to full around with guys and girls.

The guys showed up and really didn't say much to each other before we were to get started. I ran through with Scott on what he had done with us so far, and then brought up what we hoped to do and see today. In talking with Gavin a little more, I found out that him and AJ had fooled around with one another before his first shoot with us. Taking off their shirts Scott and Gavin's bare chests were revealed and I asked Gavin if he liked what he saw. Scott got a little embarrassed by the attention and I told him that we would take things a little slow. Gavin took off Scott's pants and then Gavin took off his own. As the guys were sitting the on the couch, I put on some porn for Scott to direct his attention to. Moving his hand over, Gavin started to play with Scott's dick to get him hard. I wanted to see how Scott would react to a guy touching him.

Giving each other a hand job, the guys were doing great at helping each other out. With the rock hard cock that Scott had, Gavin was ready to get his mouth to work. Bending over and taking the whole cock in his mouth, Gavin was doing a great job. After a few minutes I asked Scott if he liked the head. He said yes, and that he couldn't really tell a difference. Gavin was very respectful, knowing that it was Scott's first time messing around with a guy. He asked Scott if it was ok to suck his balls before he did it. Moving down to the floor, Gavin made himself a little more comfortable to show Scott he knew what he was doing. Scott was a little impressed, because he started to make sounds from the pleasure he was experiencing. Changing rolls, I told Scott that it was his turn to put a dick in his mouth.

Very hesitant, Scott moved very slowly to do anything. Putting just a little bit of cock in his mouth he didnt take too much in. He got a little more comfortable and would go down further on the dick. Gavin told Scott to lick his balls and paused for a second. However, Scott continued but moved down to the floor first where he could be more comfortable. Scott took his lips and rubbed them on along the shaft of Gavin's cock. Putting his head back, Gavin moaned very quietly from the blow job. Gavin wanted to suck some more dick, so he had Scott just stand in front of him for a minute. Then, Gavin turned himself upside down on the couch so that the two of them could 69. It seemed a little odd at first, but it was the perfect angle for Gavin to be able to move his head up and down on that hard cock. Gavin was really good at just taking charge through all the oral.

The guys laid next to each other and on the couch and stroked their cocks. I told them that I was ready for them to get off, and so they paid close attention to the video. Scott was stroking his cock very hard. Gavin on the other hand was going very slowly, and later I found out that was because he wanted to hold out for Scott to go first. As soon as Scott was ready to bust a nut he jumped up and sprayed his load all over Gavin's chest. It took about a minute, but Gavin then went into convulsions as he had his orgasm. He came on his lower stomach. Scott was very happy to make his $800. We will see if he will take things to the next level for some more money in a shoot to come.