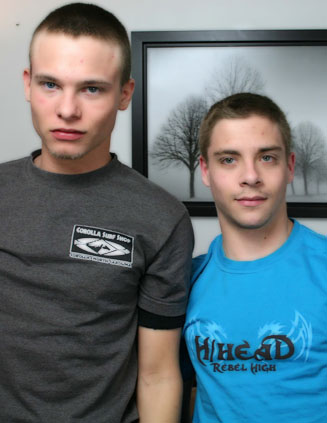 Corey and Sean did a shoot a while back together where they sucked each others cock, and did a great job. Soon after that Sean wanted another shoot and that is where he took his first cock in the ass to make some money. Both Corey and Sean were calling me up for more work, and I offered for them to do another shoot together. When they arrived we got to work, and they took a seat in front of the camera. They both didnt mind the dick sucking, but it wasnt a favorite on their list. Corey wasnt going to take a dick in the ass for any amount of money I would pay him. Turning the question on him, I asked Corey how much money it would take for him to top Sean? His first response was four grand and I repeated his number. Then, he told me he would do it for $1500. Since we agreed to the terms, the guys were ready to get started.

Getting undressed they both started to strip their clothes and I noticed that Corey had on some swim wear. He said that he was planning on hitting the beach as soon as we were done with the shoot to work on his tan. I thought to myself, that maybe Sean could go with him to get a tan as well. Before anything could happen in the shoot, I needed both of them to get hard first. Grabbing their cocks they started to stroke their cocks as they watched some girl on girl porn. With the porn going, I told them to go a head and start to give head to each other. Sean went first, and started to take Coreys rock hard cock in his mouth. While they got started, Corey tried to keep his eyes on the porn. However, Sean seemed to have a talented mouth, because it was long into the oral that Corey moaned for Sean to take all of his cock. Sure enough Sean was able to get it all in his mouth. I told them to get their dicks as hard as possible so that we could continue on with the shoot.

Pausing from giving the blow job, Sean sat up and proceeded to just jerk Corey off. Without giving it any thought, Corey reached over and started to help out Sean. The two guys were giving each other a hand job. I told them they were working really well together, and they continued on. Corey said that he was ready for a condom and to start fucking. In order for that to happen, they changed the couch into a bed in order to make some more room. After his dick was lubed up, Corey tried to get it inside Seans ass. However, Seans ass was very tight and not allowing anything inside. More lube always seems to help when things dont seem to be going well. After getting some more on his dick and Seans hole. Corey was able to get some of his dick inside. Starting out slow, it took a while for Sean to loosen up. Once, they were able to start to move with each other during the fucking. Corey pushed down with his hands forcing Sean to stay down and not fight back.

Going at a pretty steady pace the two of them were fucking hard, and Sean started to moan a little bit from the pounding he was receiving in his newly broken in ass. Corey had never felt the sensation that he was feeling from fucking an ass before, so he was very turned on by the situation. Ordering the guys to turn over, they quickly changed around on the bed without really breaking a thought. Sean laid there with his feet up in the air and Corey wasnt going to stop. I told Sean that I could tell that he liked getting fucked and he said yes. Then, in a very quiet tone he said that he wanted Corey to cum in his ass. That shocked me, because I knew that this guy was one of the straightest guys we have had and here he wanted to be came in.

Beating his meat, Sean grunted as he came shooting his load while getting pounded in his ass. As soon as Sean was done, Corey stopped fucking him and pulled out. Corey said that he didnt bust a nut in his condom and was ready to get off. He moved in closer to Sean stroking his cock. It only took a short time, but then came right on Seans lower stomach and cock. The guys did a great job together, and enjoyed doing the shoot which is something that we like to see.