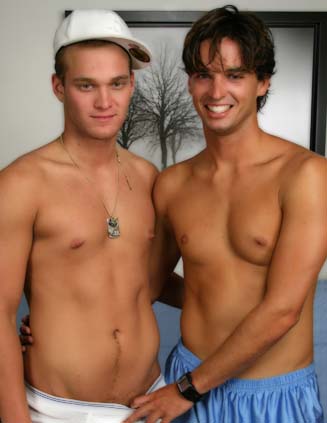 Pairing up models to do shoots, I decided to put Nu and Dustin together to see how well they would work together. I knew that it would be an interesting match, and so I setup a time for them to come by the studio for a shoot. Nu was first to arrive and I had him start on some paperwork, as we waited for Dustin to show up. About a half hour late, Dustin arrived in panic mode, because he had over slept from going out the night before. Actually both the boys went out the night before partying and having a good time with friends before the shoot. Moving to the couch we got started filming and talking. They said that they were down for oral and hand jobs. I tried to see if I could get Dustin to try bottoming, but he was not down. Nu on the other hand had topped and bottom in some shoots.

Getting undressed they both appeared to have tans, but Dustin seemed to have a darker tan that was even all over his body. Nu had some muscle definition in his chest, and seemed to be in good shape from all the surfing that he likes to do. Dustin had on a pair of white briefs that matched the hat that he was wearing that day as well. They both stripped down to being fully naked and took a seat on the couch. Starting to play with their cocks to get hard, we talked just a little bit. Dustin liked to get his dick sucked, so I had Nu start with giving him head. Moving down to the floor he got down on his knees next to Dustin. Placing the semi-hard cock in his mouth he started to suck the dick. Right away Dustin was showing that he was enjoying it, by moaning and making some facial expressions. While Nu was trying to deep throat him, Dustin pushed down on his head to make him go just a little bit more each time. Nu was smart that after a while when his mouth was getting tired from the blow job he started sucking and giving a hand job at the same time.

Dustin stroked his cock using the spit from Nu as lube, and they were sitting next to each other on the couch. I knew that Dustin wasnt going to started sucking dick on his own, so I asked him to begin. He told me that he had changed his mind against not doing oral in the shoot. I told him that was fine and we would talk about it off camera, but for the next shoot he would have to do it. He did however say that he would give Nu a hand job. Moving down to the floor in front of him, Dustin started to stroke Nus dick just like he would his own. Grabbing some lube Dustin was doing a great job at giving a hand job. Nu couldnt just sit there either, he jerked Dustin off to keep both of them turned on.

Moving into a better position, Nu moved right in front of Dustin and they were looking hot with their cocks so close together. Both of them were looked at each other not saying a work, and it only made me wonder what they were thinking. I knew that it was only going to a matter of time before Nu shot his load all over. The closer he seemed to get the harder it seemed to be to just have an orgasm. I had Dustin move up to the couch to sit next to Nu and both of them work on getting off. Nu used two hands to stroke his cock, and he let out that he was about to blow his load. When he came, it went all over his stomach, and was really runny. It didnt take long after that for Dustin to start to get off. As he moaned, and breathed really hard the cum went all over his dick and hand. Nu moved his hand over rubbing Dustins leg lightly. Both guys did a great job, but I knew that something was up with Dustin. After the shoot everyone got cleaned up, and I spent some time talking with Dustin about what was up in the shoot and doing more work. He just said that he didnt want to suck his cock. I could pick another guy, but just not Nu right now. I will have to see what I can figure out since I already had a threesome scene planned for them.