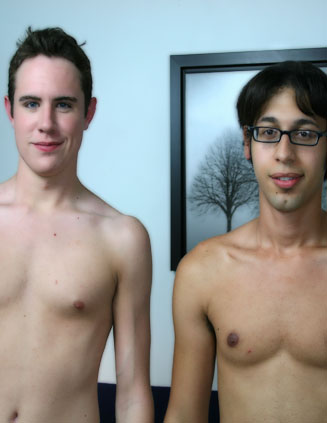 Ryan came back to do another shoot, and we joked around about trying to make him turn gay. He didn't like to joke around about it, because he has a girlfriend and is very conscious about what people think of him. Nelson was also in on the shoot, and he was gay. He currently hasn't been seeing any one, but likes when shoots come along. Both guys understood that we were going to see some fucking in the shoot in order for it to happen. I knew that Nelson would be doing the bottoming, but I put the offer on the table for Ryan to try it. He of course declined, and said he would top. Finding out, Nelson had messed around with a couple of straight guys this was going to fall in one of his fantasies. I had the guys stand for me, to get undressed. Taking off their shirts, they both looked like they had spent some time in the gym. Removing their pants, they kept their underwear on as they took a seat back on the couch. To get things started I had them start to rub the other one's cock a little bit to get hard.

I happened to make the comment that Nelson had a big dick and then Ryan said that for sure he wouldn't bottom. That just showed me that he thought about it, at some point earlier. To get some idea how big Nelson was I had him stand and pull down his underwear. Ryan stopped us by saying that he wasn't done helping Nelson get hard, and basically wanted him to sit back down. Nelson leaned over to suck and kiss Ryan's dick over his boxers. It didn't seem to be doing anything for Ryan, so I told him to just go ahead and pull them down. Standing up in front of the couch Ryan was ready to get head from Nelson on his knees. It didn't take long for Ryan to say that he liked it and was enjoying the blow job. Tired from standing they moved back to the couch, and Nelson tried to give some tongue attention to Ryan's balls. However, we quickly learned from the laughing that Ryan was very ticklish on his nuts.

Standing up, Nelson asked if Ryan was ready to give head a try. Ryan was a little caught off guard, but he started to suck Nelson's cock very carefully. He went for a minute, before he paused and said that he wouldn't lick his balls. Trying to get out of more, he asked if I wanted him to continue. Nelson took a seat on the couch, and Ryan leaned over to suck on it again. He was able to get the tip in, and his mouth got a little tired of the oral after a while. I had the guys move on to getting ready to fuck. Changing the couch into a bed, the guys got into position and Ryan got a condom on. It took a little bit for Ryan to get his cock inside Nelson's tight ass. We learned that it has been almost a year since Nelson was last fucked. Because, it had been so long, his ass was very tight, causing him to moan a lot from the pain. Ryan said that he was use to loose girls and I told him that maybe he needed to look at the girls that he was going after. Nelson, was able to start to ride the cock, and would push back up on Ryan's dick forcing more of it up his ass.

Changing things up I told them to get Nelson on his back, and they debated on how to do that. They attempted to do it with Ryan keeping his cock inside, but it just didn't happen. Once in place, Ryan was able to get his cock back inside Nelson and continue the fucking. To make it easier on Nelson, he wanted to ride it and Ryan didn't argue with it. The two of them kept going at a pretty fast pace, and so I knew that Nelson was getting close to blowing his load. I didn't know how Ryan was going to react to having cum squirted on him. Ryan screamed out that he didn't want it on his face. Nelson shot his load all over Ryan's stomach. Giving Nelson a second to relax, he got off the dick and licked his own cum off of Ryan's body. Before Ryan could get off, he wanted to get cleaned up before jerked off. Ryan grabbed the lube bottle, and started to get hard. To make things even, both settled on Ryan shooting his load all over Nelson's face. Lying flat, Nelson tried to help Ryan out by touching him, but Ryan wasn't having it. It took a while for Ryan to get close to cumming, but he started to have an orgasm. Jumping up on his knees, Ryan got right in front of Nelson and came on him. Cum was sprayed all over Nelson. Both guys did a great job, but Ryan decided that he would fuck again with a different guy that wasn't as tight. We will wait to see if they will do some more work.