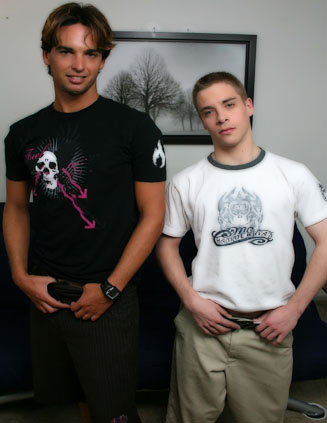 Waves crashing on the beach, sun beating down on my skin, the heat could cook an egg on the side walk. I was meeting up with Nu, who called me to watch him do a little bit of surfing. Nu gave me a time and place to meet him, and when I got there he was looking out at the waves. Because of the time of day, the waves were a little flat, so he didnt know if he would really be able to show off his skills. This guy, Sean walked up and he too was trying to catch some waves. With no luck he was just hanging out on the beach, and got sucked in to what we were doing with the video camera. I asked the two of them if they wanted to go to our studio to do a shoot. To play off what I was going to have them do, I told them that they were going to do some solo work. Both replied with a yes, and we had to hike back to our cars. They followed me back to the studio, and Sean got lost along the way.

When everyone got to the studio, I needed to get the two of them settled in. Sean was wet from being out in the water, and so he had to change. After he was ready, I had him take a seat on the couch next to Nu. We talked about surfing and getting to know them a little bit better. Nu was still straight, and I joked around with him about turning him gay. Sean said that he was straight as well, and was dating this girl, but it wasnt anything too serious. With it being his first time on camera, I knew that he was going to be a little nervous. I told them that I was just going to have them jerk off next to each other, just like in a solo. They told me that they were comfortable with being naked next to each other for the money that they were going to be making. To get things going I put on porn and we just chatted about the girls that they typically liked to go for as they stroked their cocks to get hard.

Both guys had big dicks, and were pretty rock hard. Once they were hard, I told them that I wanted them to touch each others dick. They caught on really fast in that they wanted to try and bargain to get more money out of me. After we settled on an amount they, did just what I had asked. Reaching over they took hold of the other ones cock and started to jerk it off. I had Sean stand up for the camera, to get a better look at what his body looked like. He was packing a big cock, and in turning around he revealed a bubble-butt that he had. As he returned to the couch, I asked him if Nu would be down for giving head for the first time. Before he even could get out an answer, I told him that I would pay him even more money to do it. Nu leaned over and grabbed the cock with his hand. As he placed his lips over the cock, he started to move his mouth up and down. To make himself a little more comfortable, Nu got down on his knees on the floor. Nu was getting into giving the head, and was proving that he had some skills doing it. Sean was enjoying it, and not really saying a whole lot.

In changing things up, I asked Sean if he would give head for a while. There was a very long pause for a while and I could tell that Sean was really thinking of if he wanted to do it. But, I heard a yes, and we could continue on with the shoot. Sean took it a lot slower to start, and I was surprised at that he took as much cock in his mouth as he did. In some ways I think that he was trying to keep up with how Nu did. His mouth was busy, so was one of his hands stroking the balls and occasionally the shaft. Sean kept giving head for a while and got to a point where I told him to get Nu off by jerking him off. After a very short time, Nu came his load all over his chest and stomach. Nu started to try and jerk Sean off to get him to have an orgasm. I could tell the Nu just wasnt doing it the way that Sean liked, so after a while I had Sean do it himself. That did the trick, because Sean got his dick rock hard. Taking back over Nu, got him to pop his load on his stomach. Both guys were tired from all the work, but did a really good job. I wanted them to come back and do some anal for us. The first words out of their mouths were that more money had to be involved. I will get to work on seeing when I could get them to come back in to fuck on camera for the first time.