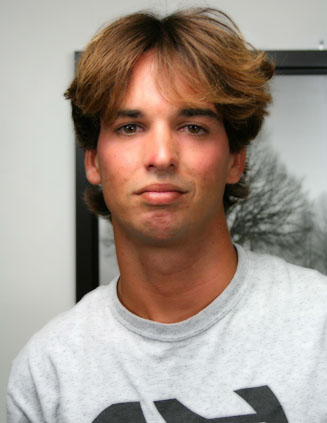 Our studio was visited by the hippie-child, better known as Nu. I will admit that the name is very odd, but I figured that Nu had the body type that seems to be pretty popular. In getting started with the shoot, I wanted to get to know him a little better. Nu told me that he is straight and that he doesnt have one girlfriend. He is seeing several girls right now, and so they keep him busy. Guys come to us in different ways, and Nu found us through an ad that we run. As far as Nus hobbies go he likes to surf and snowboard, although it is a little hard to snowboard in southern Florida. We talked about me going and watching him surf for a while one day with the video camera, and he said that he would be open to that. I told Nu that I would pay him $200 to do the shoot and then from there, he would have to do some more in shoots to make the big money. From the money that he gets for doing the shoot, he had planned on putting it towards a new surfboard.

Nu is 6 foot, 155 lbs, and has a 7 inch cut cock. From spending all that time out in the sun, he had a great tan all over his body. It did make me a little curious if he had some funky tan lines from his shorts or not. But, we were soon going to find out. To get started, I asked him to remove his shorts for us. Underneath he did have on a pair of white briefs. In order to make Nu a little more comfortable on his very first shoot, I told him that I would put on porn for him to watch. That would help him to get a hard on, and when he felt comfortable he would take off his briefs. He reached down and started to rub and play with his cock a little bit. Pulling it, he grabbed it out of his underwear and stroked for a while. I asked him when he got off last, and he told me last night when he was with a couple of girls. He asked me if he could take off his shorts, and I said that he could do whatever he wanted.

Lying to the side Nu made himself a little more comfortable to try and get more turned on. He rubbed his smooth, shaved balls with his hand, and slid his hand all over his body. I actually caught him a couple of times rubbing his finger over his butt hole getting excited. Moving over to the side, to get a different shot of Nus cock, I could see that his cock naturally curved up towards his head. Moving a foot up on the couch he applied some pressure under has sack and jerked off at a pretty good pace. His speed started to increase and I knew that it was going to be any moment for him to cum. He let out a couple of grunts and then cum sprayed on his chest. He came a clear, large size load all over himself. Nu said that it was the easiest $200 he had ever made, and so he jumped at a chance to come back. I told him that maybe in a couple of days we could do another shoot and film him surfing a little bit before hand. We will have to just make sure that he answers my call.