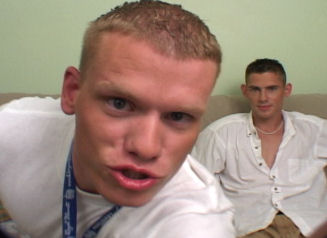 Both these guys have some bills to pay. Chris has a mortgage and truck payment to make. Alex needs to pay off a cell phone bill so his girlfriend to get in touch with him. Taking off their shirts, you can see these boys are some true American-made white boys. They have great builds, smooth bodies. Easy going, fun, but "out there" describes both these guys perfectly. Chris even shows all of his bullet holes, and then his ass. Looks good so far, right? Stroking their cocks, neither one seems to be able to get hard. They need some help, so I offer to pay Alex to give Chris head. At first he is not for sure, but then he steps up to the plate. Chris pushes Alex's head down to the base of his cock. Changing positions makes a world of difference for Chris. Notice his face and how much he is enjoying this. He starts to bite his hand, and go out of control because it feels so damn good.

Now when asked which is better a girl or a guy giving head, Chris goes for the guy. Alex licks Chris' balls, goes right for the most sensitive areas gets Chris to go crazy. Chris goes for the cum shot. He takes over, jacking himself off. Alex has a request where the cum should go. This shocked the hell out of me. Alex was already making the extra money but he was wanting Chris to cum on his face. The only request that he had was to keep it out of his eyes. With Chris standing, Alex shot the load all over his face then licked the tip of the cock. After all of that, it was Alex's time to cum. Both boys stroked their cocks very hard. Alex sat there with the cum on his face. He was very into the moment. He shot a huge load of cum everywhere, and just sat back and took a deep breath.

Chris has an amazingly funny personality, and in working with him he made the shoot one that I will always remember. And probably you will too. It might be one that you might even watch to get a laugh or two. Both these boys were great to work with and I look forward to seeing them again.