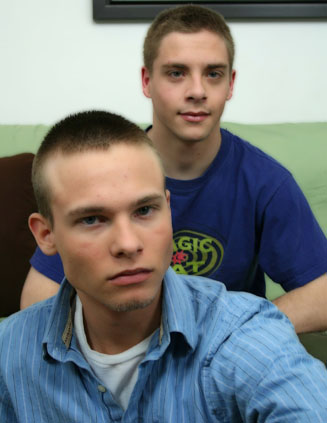 Corey came back into the studio to do another shoot, just like I had hoped he would. It took some talking him into in order to get him to do his first shoot with a dude. As far as what would happened, he told me that he would be fine with doing the shoot for $800 where he just got sucked off by another dude. Flipping through my rolodex I knew that Sean was looking for some work, so I arranged for him to drop by the studio for the shoot. I had Sean come into the room and introduce himself on camera again. This was going to be Seans second shoot, and time messing around with a guy. I had him tell Corey that it wasnt that bad, and actually he said that it was fun.

First thing that needed to happen was that they needed to loose their clothes and get naked. Both of them stood in front of the couch and started with their shirts. Corey had on many layers of clothes, but eventually they got down to their underwear. While they were doing this I asked them if they had ever fucked a girl in the ass. Their response was that they had done it many of times, but in asking if they ever let the girls try and play with theirs they shut that idea down. Returning to the couch, I asked them to get hard for me. It only took seconds of them watching a new girl on girl tape that we had filmed. Both of them were very excited about what they were watching.

Starting with Sean, I asked him if he was ready to give head to Corey for a little bit. Taking the dick in his mouth he started to go up and down. Making a strange face, Corey seemed not to be enjoying it at first, but I told him that it should feel good. As he sat there, I told him that he could help his brother out by stroking Seans cock at the same time. Moving over to Sean he didnt seem to mind the dick sucking, and showed some improved skills. Something that caught my attention was that Corey started to watch Sean giving him head. Usually that never happens, the straight guys turn their heads, look up at the ceiling or my favorite could be to close their eyes the whole time. When guys tend to suck dick for the first time, they always forget to play or suck on the balls. I told Sean to lick them, and he did which Corey seemed to like.

The pressure was on and I moved the spot light to Corey, by asking him if he would try to give head for a bit. I made sure to put some more money on the table figuring that I knew that he needed to make as much as he could while he was in the studio. His eyebrows rose, and Corey stepped right in to see if he could get him to do it. To start, I told Corey to reach over and touch the dick some more just so he could get use to another guys penis. He said that he would try it, but he had a request and that was to suck a hard cock. Sean started pumping right away watching the video and after a short time he was ready to start. Leaning over Corey started sucking like a vacuum, and was doing a great job for his first time. Sean was enjoying it fully, and Corey didnt seem to mind after a while. I heard that he was using some teeth through the whispers, so I knew that we needed to try something else.

Pulling out some toys the guys seemed to be excited to try it, but the bad thing was that I could only find one. I think one of the models from another shoot jacked one of them. Sean was having some issues with getting his dick inside and that was because he wasnt rock hard any more. Passing it over to Corey, he made the comment that it felt like the real virgin pussy. Handing it back and forth they both used the toy until they decided that their hands would finish the rest of the way. Stroking their cocks pretty fast, and at a steady pace I knew that it would be a matter of time before one of them shot their load. I got a little bit of warning when Corey came right on his lower stomach. I pretty thick load too. Sean was feeling the pressure that he needed to finish as well. His face was getting bright red from holding his breath, and he let out a loud grunt as he came on his chest. Both guys did a great job, and Corey wasnt too freaked out about the whole shoot. We will have to see if we can get them back in for another shoot, and I hope for some fucking next one. Time will always tell what a straight guy will do for money.