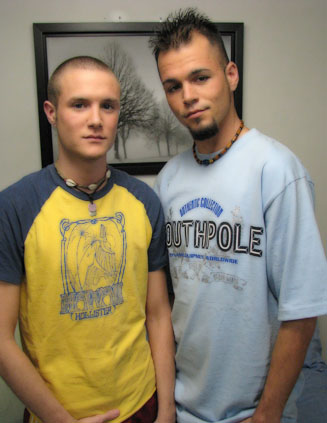 Hollywood came back to southern Florida for one more shoot, and he wanted to shoot with Ashton one more time in an anal scene. Ashton and Hollywood had done a couple of scenes together already and the last time there were here they both ended up sucking dick for the first time ever. I left them with a thought of doing anal in their next shoot and if that would happen. Right away Hollywood said that he wouldnt take it up the ass, and that it would have to be someone else. Since I had a busy couple of weeks, I couldnt get either one in for work with other people. Ashton called me begging me for another shoot and I told him that he would have to take it up the ass in order for me to do a shoot. He agreed, so I setup the date and time for them to come by.

Ashton was nervous and afraid of the pain that it might feel, and I told him that it would be ok as long as we took it slow. We were going to start the shoot just like all the rest; where they would get naked and stroke their cocks for a little while to get hard. After that I was going to have them do a little oral before we would change the couch into a bed for the fucking. In looking down I noticed that Hollywood bought some new shoes and one had white shoe laces and the other black laces. We talked about what else they spent their money on to be back here broke again needing more money. To get things moving I asked them to get undressed, and they stood to do it. Since they had been naked around each other before they moved a little faster in doing it. Taking a seat on the couch they started to play with their dicks. I know that I said that I was going to give them some time to warm up, but I wanted to move the shoot along. Since Hollywood was going to be doing the fucking, I asked Ashton to give head first.

Since Ashton had already given head in the last shoot, to him this wasnt as big of a deal. He leaned over and took Hollywoods cock in his mouth. Hollywoods cock stood up straight after a few seconds of a blow job, and he loved it. His eyes closed, and moaned from the good head he was receiving. It was hot to watch! Ashton used his mouth and hand in coordination with each other, so that he didnt have to take all the cock in his mouth. It didnt matter though, because he was doing an awesome job. I asked Hollywood if he was ready to fuck Ashton, and in a quiet tone he whispered yes. Getting off the couch we had to make it into a bed. Hollywood grabbed a condom and put one on his dick. In figuring out how things were going to get started, Ashton acted like he didnt want to continue the shoot. We had to stop the cameras and I told him that things were going to be ok. Hollywood would be very respectful, and if we got started and he thought that he didnt want to continue we would move on to something else.

The best position to start out in for your first time of anal is on your back. Even though guys might not show it in their face, truth is that it is a lot easier for your muscles to relax. If your dick is rock hard as well, than that helps to keep you turned on and your mind busy. Ashton got into position and Hollywood moved behind him. As Hollywood started to put his cock in, Ashton let out this loud noise, but everyone continued. Getting all the way in, Hollywood was able to start to move a little bit more in and out. Reaching back, Ashton tried to keep him from going too deep. Even though Ashton seemed to be in a little bite of pain, the show kept moving on and little moans of pleasure came from him. Hollywood commented on how tight he was. After I captured them for a while in this position, I wanted them to continue in another.

Doggie-style is a lot dirtier, and turns more people on. Hollywood put his hand up on his hip and fucked the shit out of Ashton. When Ashton couldnt take it he would shove his face down into the pillow to hide it. Virgin ass seemed to hit the spot for Hollywood because it only took a little while in this position before he almost blew his load in the condom fucking Ashton. He pulled out and jerked off for a second, and then he came all over Ashtons back and butt. After he was finished then, Ashton rolled over and laid there stroking his own cock. I told Hollywood to help him out a little bit, but all he could really do was rub his leg. That is a straight guy for you. Ashton shot his load all over his chest and he most had been turned on, because that was the biggest load he has shot so far. I told the guys that they did a great job, and that I would love to have them back for more. Really, I knew that they could care less about the shoot any more, than just getting cleaned up. I told them to go hit the shower.