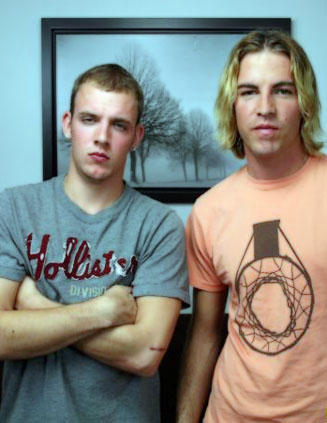 CJ is back for another shoot, and still broke. He explained that he spent most of his money on rims for his car, and stashed some of it away from his current girlfriend. I asked him if she had any idea of what he was doing in the shoots to make that money. CJ explained that there was no way that he would tell her what he was doing to earn the money, especially doing things with guys. I had him remind the camera a little bit about himself, and he started out saying that he was 18, and wanting to make some more money. I told him that I wanted him to do another shoot with a guy, and do some more anal play this time. I asked if he would be down for some fucking and he told me no. However, he did give me an ok for us to do the shoot, I explained that I would bring in Ethan. Ethan has done some shoots for us before, and has done pretty well. He is a skater, loves to be outside, and loves the money that he is making for showing off for the camera.

I told them that I would love to see them do some oral, and then maybe have Ethan do some rimming on CJ. Ethan said that he would just see how things go in the shoot. I had the guys stand up to strip their clothes off, and the boys went right for it. Neither one was shy about it, and as CJ stripped I couldn't help, but keep the camera mostly on his body. His chest and stomach muscles were popping out a little more to me in this shoot than before. His body was in great shape, and he had spent some more time out in the sun. Ethan on the other hand, was staying in shape just as nicely, and always has a great tan. The two boys got down to their underwear and stripped them off just as fast as the rest of their clothes.

CJ stepped a foot closer to Ethan and reached for his cock. I was a little impressed, but he didn't stop there. He dropped to his knees without a moment of thought and put Ethan's cock in his mouth and started to suck. As his head moved back and forth Ethan placed his hand on the back of CJ's head and let him know that he was enjoying it by all the moans he was giving. Ethan got rock hard from the blow job, but let's face it who wouldn't with a boy like that down there on your cock? CJ was being a good sport about it, and after a while I told them to flip it around to give Ethan a chance on his knees.

Dropping to the floor Ethan took his place, and put the limp cock in his mouth and started to get it hard. Ethan's cock did start to grow, but the thing that I noticed was that CJ liked to dominate a little bit. He placed his hand on the back of Ethan's head and grabbed a handful of his hair. He then pulled it a bit, to make Ethan go to his speed and depth he wanted. That was hot! Moving to the couch CJ took a seat and Ethan kept going. What I liked about CJ is that he knows how to direct guys to do what he wants. He slowly leaned over to the side and moved into a laying down positing to place Ethan to start to rim him. As Ethan's tongue started to glide over CJ's tight asshole, CJ's moans became louder.

Rolling CJ over, Ethan directed him up on his knees and barred his face in his ass to make him happy. Ethan even spanked him a couple of times, and I could tell that CJ was turned on by it. However, he was still very nervous in how much he was going to let loose and do. I asked him if he had ever used any of his girlfriend's toys and he said no because he didn't want he to see that. CJ stroked his cock as his hole was getting teased by a tongue. Ethan wetted his fingers with his spit, and then rubbed them over CJ's asshole, and then pushed them up inside him. They kept going with the fingering for a while as Ethan tried to get CJ closer to getting off.

The two of them jerked off and I could tell that they weren't far from cumming. Ethan gave me a warning and he came on CJ's stomach, chest, and arm. About half way through Ethan's cum shot, CJ came as well and the two of them got off at the same time. I mentioned that Ethan's liked to have his ass played with, and I told him that I would like to have him come back for another shoot to get fucked. When I brought up doing the shoot the following day, he said he had a date with his girlfriend, but anytime the following week worked for him. I will try to get CJ back, and hopefully Ethan back in here again for a full scene for us.