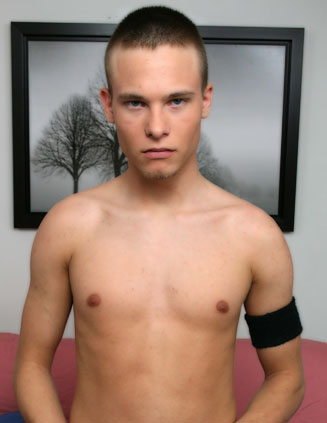 Corey came in to do a shoot with us, and he arrived while we were trying to do some rearranging of furniture. That was the reason why the couch was covered with a pink sheet, but Corey didnt seem to mind as long as he received his money. Right away when I met Corey, I picked up on his accent and knew that he was from the south. To be more specific he came to us from South Carolina. He learned about our studio from a friend of his, and Corey needed to make some money to get back on his feet. Corey got out of a two year relationship with his girlfriend recently, because he cheated with another girl and his girlfriend found out. To my surprise he said that it was worth ending his relationship over. We changed the subject and I told him that he was going to jerk off for us in the shoot. For doing that we were going to pay him $200 for doing the shoot, and he was shocked that the amount was so low. I told him that we had to make sure that he was going to work out, before we would pay him more for shoots.

This was Coreys first time in front of a camera, so he was a little nervous. I asked him to stand up and get undressed for me. As he did so, I got some stat information from him. Like he was 5.10, has a size 10 shoe, and a 30 inch waist. In taking off his shirt, I could see the muscle definition in his stomach and chest. Corey does go tan on a regular basis, and he works out when he can. He took a seat on the couch, and we found out that it had been a couple of weeks since he last blew a load. I threw in a video for him to watch in order to make him feel a little more comfortable in the shoot. Corey started to play with his cock a little bit to start getting hard. He slid his hand down inside his underwear to get hard. Shyness wasnt something that seemed to bother him, he pulled out his cock and worked on getting a boner. Laying to the side, I could see that Corey was comfortable.

Moving around the room, I was able to get a couple different angle shots of Corey jerking off. It took him some time to get comfortable and me being only a couple of feet away from him the whole time, but he was doing a good job. At times the room was so quiet that I thought that maybe we were doing a shoot in the library. In the back of my mind, I hoped that if I did put him in another shoot with another model that he would make some noise and let out his wild side. Coreys cock was about average size when he did get fully hard, my guess would have to be that he was around 6 inches. He gave me a warning that he was about to cum, and he came on his stomach. In looking at his load size, the cum really stood out on his skin from the tan that he had. He did a good job, and thought that it was hot being on camera. Corey really wanted to talk about the money off camera to see if he would want to do any more that would go further. I gave him some numbers and ideas for shoots, and he said to me that he wanted to think about it. I dont pressure guys, so I will wait to see if Corey calls me later in the week for some more work.