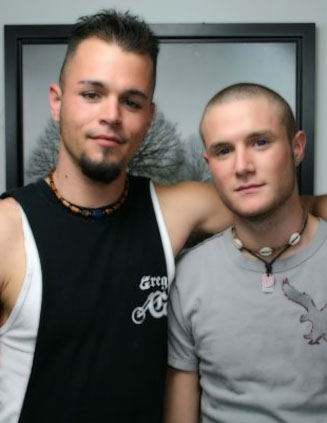 Whenever, I need work done on my car, it always seems like I get ripped off by the mechanics. I knew the work that I had to have done was pretty basic, but still wasnt something that I could do. In looking on some local websites, I found these two guys that come to your place to work on cars. They told me that they could come right over and get started on my car. When they were through working on my car, I told them what I did for work. They seemed really interested, and liked the money figures that I was talking about. I invited them inside to have a drink and look over a contract. Taking a seat on the couch they started to look over the release forms. As they did so I picked up a camera and started filming. Hollywood, is 21, and has been married the last four months. I found out that Ashton was 20 years old, and had a girlfriend. They got to know each other through their women and from there started hanging out and working together.

In talking to Ashton and Hollywood about their sex lives, they said that it has been on the slow side lately. Ever since Hollywood has been married, he only tends to get sex every couple of days. While Ashtons sex life has been put on hold since he had forgot about his one year anniversary with his girlfriend. So, when I asked them if they were horny they of course said yes. To get ready for the shoot, I asked them if they would be ok jerking off next to each other, and they were okay with it. This was going to be the first time that they would see each other naked. They were a little nervous about not getting paid, so we got all the details out of the way and they were ready to get started.

Their shirts came off really fast, and I was left starring at their smooth chests. Hollywood had a tattoo on his upper chest that stood out, while Ashton had his nipples and belly button pierced. Next, was their pants both guys were a little more nervous as more skin was going to be revealed, but they did it. Stripping down to their boxer briefs, I told them to rub their cocks to get hard. Having Hollywood stand up for a minute, I wanted to look over his body with the camera. Spinning around it didnt look like he had much of an ass, but I did catch some more tats on his body. Moving the camera downwards I caught that he trims his body hair to a line that leads right to his dick. He pulled out his dick to show it to the camera and it looked like it would be huge. Hollywood wanted to sit back down, and Ashton stood up for us to get a view of him as well. He had more of a leaner build to him, and in showing his dick he too looked like a good size.

Hollywood and Ashton sat on the couch stroking their cocks with some lube to try and get hard. In watching the two of them jerk off, it looked like Hollywood was the first one to get rock hard. He wasnt going to be the only one, Ashton soon followed with his monster cock as well. The two of them became aware of what they were doing and moved further apart from each other. Moving back and forth I wanted to watch the two of them up close and personal. I gave them the go head in getting off, and right away Ashton told me that he had been holding back for a while. He was really turned on by the video that I had put on, and he jerked his dick with really hard with his hand. Squeezing his nipple he let out that he was going to cum. With some very loud breathing and moans, he came a huge load all over his lower stomach. About half way through his orgasm Hollywood started to have his. I moved the camera over to him and his legs were wide apart, and his one hand was tightly gripping the back of the couch. The other was on his cock quickly trying to get him off. The cum started to spray into the air like a fountain. Both guys were trying to catch their breaths after that, and we joked around about their great job. We talked about having them come back for some more work really soon.