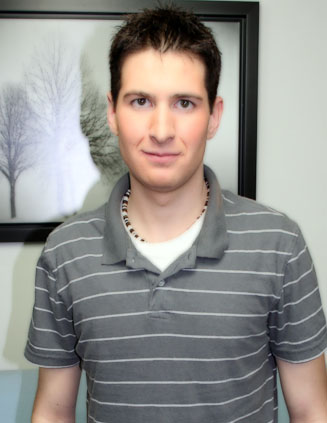 Mike found out about our studio from online and was trying to make some quick and easy money to improve his situation. He is 22, and just got out of the service in Iraq, so now he has to get back into the routine of working again. Mike is straight and has a girlfriend right now, and doesn't want to be in any scenes with guys. We will have to see if that is true later on, but for now I only had planned for him a solo scene. I explained to him what that was and how much in entailed. Standing up in front of me he started to get undressed by pulling off his shirt. I noticed that he was a little shorter than me, and he responded that he was 5'5". Mike had a very nice tone chest and stomach, pierced nipples, and a tattoo on his arm which he says he got overseas. He took off his pants, and then I told him to go for the boxers whenever he is comfortable. That is when Mike just went for the boxers so that he could get down to business.

Stroking his cock, he got hard in a very short time, and we talked about his pierced nipples a little bit. He told me that he had them done about two years ago and that they're very sensitive. I told him to stand up for me and that is when I could really see the size of his boner as he jerked off. Walking around him I was able to get a great view of his ass, and the bubble butt that he had going on. He kind of laughed when I complimented him on it, but really it was better than some of the gay boys I work with on occasion. I gave Mike a special task to try and that I wanted to see him pretend fuck a pillow so that I could see how he looked. Really, I pictured him fucking a dude right in the ass, but I will let you see what your imagination shows you. Sticking the camera behind him, I was able to get a better view of the cheeks from this point.

Returning to a sitting position Mike sat very comfortably against a pillow and was watching the video. He literally sat there for maybe a minute or two and gave me the warning that he was about to cum. That he did, because he came all over his chest a very nice large load and was great to see. My guess is that he has a lot of blue balls to get rid of from being away from girls for so long. I did asking him quietly if I could be his girlfriend if he has that load all the time and he started laughing. I know that he was relaxed, so I just wanted to kid around with him a little bit. In talking about the guy stuff, I even started to give out some numbers to see if we could change his mind. Time will tell me if Mike will do stuff with guys if his bills are really that far behind.