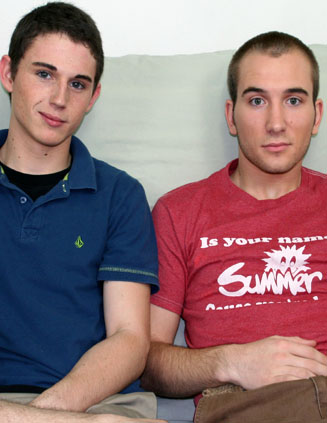 Tyler is back again for another shoot with us, and he brought along a friend Jacob to do a shoot. Jacob is hard up to make some money, and Tyler has learned that by doing shoots he can make a lot of money in a very short time period. Jacob said that he was straight and just got out of a relationship, and Tyler mentioned that he was still with his girlfriend. I told them that if they wanted to make some money for doing a shoot, that I wanted to see them fuck. Both of them quickly changed their minds and weren't ready to do what I had in store for them. Explaining to them how the pay works for the shoot, if I put Jacob in a solo shoot he was only going to make $200, but if they did a fucking scene together than they both would make $1000. Large amounts of money is something that gets models to change their minds, and I know that. The two of them started to discuss it and see if it was something they would consider. Jacob brought up that he usually doesn't use condoms when he is in a relationship and that they might cause some problems.

In talking about the use of condoms we started talking about bareback sex, and that it does pay more money. Both guys were recently tested to make sure that they were clean, and so I offered them $1500 to do a scene for us then. To get the shoot moving along I told them to maybe start out with some kissing. Leaning over the two of them started to kiss each other gently. I knew that Jacob was very nervous and so I had Tyler start out with giving him oral. Both guys stripped off their shirts, and I asked Jacob to stand and drop his shorts for us. He did so, and Tyler put the limp cock in his mouth to start to get it hard. Right away I could tell that Tyler was learning some skills in sucking cock, even though he still had not done that many shoots with us. Jacob's cock was getting hard, but still not like a rock.

Trading places I wanted Jacob to try giving head for the first time and he wasn't completely ready. He actually had asked if cock tasted bad, and Tyler was the one that spoke up first in saying no. With his fingers Jacob jerked Tyler's cock for a second to get it to grow, and then proceeded to get his mouth closer to it. Sticking out his tongue I told him to just go ahead and put his mouth all over it. Sucking cock Jacob was able to get Tyler really hard pretty fast, and he didn't like the comment that Tyler made about him being good at giving head. I knew that if Jacob was going to fuck Tyler, he was going to have to get rock hard to get that massive cock in a tight little asshole. I had Tyler go back to giving Jacob had for a while.

Opening up the bed to get ready to fuck, the boys went for some lube. Tyler got on his back, and was getting ready to take a cock in his ass for a second time. Jacob had a request to have Tyler ride him, and I didn't care as long as they got started. Jerking his cock off for a while, we had to wait to see if this was going to happen. However, I had to change the game plan after a while when Tyler just wasn't hard enough. I asked him if he wouldn't mind getting fucked in the shoot, and he just didn't know how to respond. Without letting too much of a pause go on I had him get on his back, and put his legs up in the air.

Once Tyler was able to get hard, I was glad that they were able to get started without a problem. Tyler seemed to get a motion going and I just stood back and watched. The two of them were able to go for a while and then I asked them to change positions. Jacob got on his knees and his head on the bed for some more good pounding in his tight virgin asshole. I was able to get the camera in between their legs for a great close-up of the penetration. The moaning continued from Jacob getting pretty loud at times while they were fucking. However, Jacob's knees couldn't take it anymore so they changed positions again for me.

Tyler was getting close to cumming after a while, and pulled out to squirt his load on Jacob's stomach. He jerked off to try and get off. Jacob sat there for a few minutes, and then he too began to jerk off as well. After a few minutes Jacob came all over his lower stomach. As soon as he was done, then Tyler shot his load as well. Part of me started to think that that Tyler was just waiting for Jacob to get off first. I told the boys to go hop in the shower to get cleaned up. Both guys did such a great job in the shoot that I would like to have them back for more work.