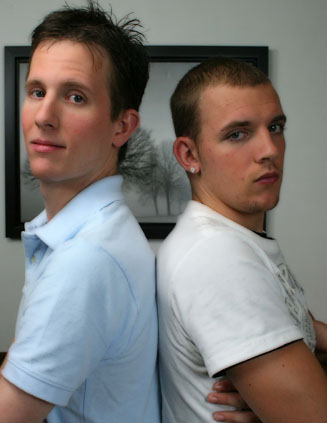 CJ called me up right after the shoot, and wanted to come in for the other shoot that I had talked about putting him in. I told him to come by the following afternoon and I would have something setup for him. For the shoot, CJ showed up and I had Billy another model of mine there for it as well. What I really had wanted to happen was oral to go on between the two guys, however when we started talking about it CJ wasn't down for it. Then, when money was brought up we started talking about him giving oral. Billy leaned over and took the monster cock in his mouth and started to give him head. In watching Billy suck on the cock, you could tell that he was enjoying it. CJ pushed down on Billy's head to try and get him to deep throat some more. The bad boy CJ, was enjoying it, and even made some noises to show it.

Pulling back, Billy lifted his head up for some air, and that was when I interrupted them. I asked CJ if he wouldn't mind trying to give head for a bit. I heard a very short, but loud, "ok!" I asked, CJ if he had ever tried sucking his own cock and he said no. Taking the cock in hand he started to suck on Billy's cock. Billy kind of laughed a little bit, but I learned later that was because CJ was using a little teeth. Now, the one thing that I tried to signal to Billy was to stop saying that CJ was good at giving head. I didn't want to him to get freaked out on doing it for the first time. The two were doing a good job, and I didn't want CJ to get too tired of it, so after a while I had Billy go back to sucking CJ's cock.

As Billy started to give head again, I noticed that he was trying to finger CJ a little bit. That is when I asked him if it was ok for Billy to go a little deeper. That is when CJ came out with the news that his girlfriend has fingered and rimmed him before. I asked if Billy could rim him, and he gave me the green light. Billy didn't mind, so he got his tongue right in that tight ass hole. As they kept going, I was happy to see that CJ was going right along with things. He is a hot ass guy, that I think will be good at doing shoots for us. I asked if he would try using a dildo, and he said that he would give it a shot as I waved it around in front of him. He did ask if I would give him some more money, and I agreed that I would up his pay.

Placing the black dildo against CJ's ass, Billy pressed it in slowly and CJ didn't really react much to it. I was happy to see that he was doing ok with it going all the way inside. Billy was good at pausing every so often, and playing with his cock as well to try and take his mind off of it. After a while I could tell that CJ was getting a little uncomfortable and they changed positions. Look at the ass that CJ has on him, and watch as he gets fucked by a dildo. Hopefully, next it will be the real thing, and he can get a spank or two. In this position he started to really get the feeling like he was getting fucked and made some faces of pain. Billy would spread CJ's cheeks apart to get that toy deep in there.

Taking a seat on the couch the boys sat next to each other to jerk off, and I was hoping that the two of them would actually blow their loads at the same time. Billy starred at CJ's cock wanting it more and more. But, how could you not want to just jump on that thing? CJ got up from where he was sitting on the couch and walked over to the side of Billy putting his cock right in his face. That is when he shot his load all over Billy's face and stomach. It was a huge load! Billy jerked off for a while and the cum started to run all over him. Licking his lips he got a little taste of it. When Billy came, it went right on his lower stomach. The two boys looked drained and did a great job together. I now want to bring CJ back to get fucked by the real deal.