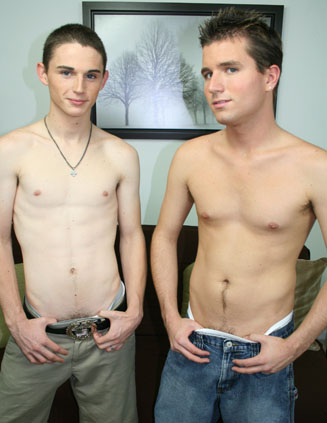 I went to the Miami Beach car show to see if I could pick up any straight boys to put into some shoots for us. While I was walking around the convention floor I ran across one of the guys that had done some work for us. It took me a second to remember who he was, and then his name, Aiden popped into mind. He wanted to check out the cars while he was in town. We walked around looking at each of the cars, and while we were checking out this jeep a guy walked up. Aiden started to talk to him right off the bat, and I seemed to get his attention when I told him that we shot adult videos. He was 18, straight, and had a girlfriend who wasn't into cars. In talking to him about the work, he sounded like he was down, but we confirmed that he had correct IDs, and would jerk off for us. I asked them both to come into the studio the next day to do a shoot.

Both guys showed up at the studio the following day to do the shoot, and seemed like they had a lot of fun at the car show. This was Aiden's second time on camera, and then this is Tyler's very first time for being on camera. I explained to him that we would pay them $200 to jerk off next to each other. Both guys talked about what they're into, their girl situations, and I had them start to get into the shoot. I had both guys stand up for me to get undressed, so that we could watch them and see what their bodies look like. As they took off their first piece of clothing both guys removed opposite things. Tyler took off his pants first, and then Aiden when for his shirt. Down to their underwear they both took a seat on the couch and reached down to start playing with themselves.

The nerves were starting to get to Tyler and he was having a little trouble getting going with a boner. However, when Aiden was hard he stripped off his underwear and showed off his cock to the camera. Tyler glanced over and looked at Aiden's cock and how big it was. I left Tyler alone to get a little more comfortable, because I was beginning to think that he might be good with us. I asked him if he had told his girlfriend that he was here, and he said there was no way in hell. When he finally removed his underwear we got to see his package a lot better, and I offered him some lube to see if that would help him get hard.

Sitting next to one another on the couch they watched the porn that we had on, and just stroked their cocks. Tyler was able to get pretty hard with the lube, and we were able to compare his dick to Aiden's off camera. I think that if Tyler were just a little harder, that they both would be the same size, Aiden was just a little thicker. I had told them to go ahead and work on giving me some cum shots, and so they picked up the pace in jerking off. Tyler was much more intense in his concentration of what he was doing. I prepared myself for not knowing who was going to blow their load first, because they both looked like they could go at any second. Aiden came right over his hand and most of his load went all over his cock. With the sight of cum, Tyler came as well right on his hand and cock.

I asked both the guys if they would like to come back to do some more work, and Tyler said that he would have to see what we had in mind. His major concern was that he didn't want his girlfriend to find out what he was doing. So, I guess for now we're just left waiting to see if Tyler will come around to doing another shoot with a guy.