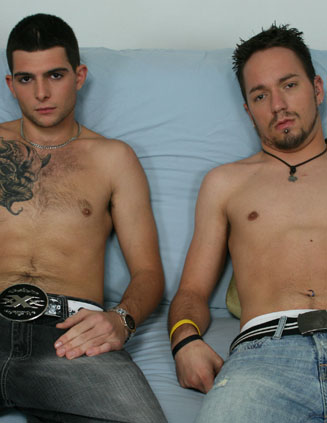 Here on Broke Straight Boys we get to see straight guys mess around with other guys on camera to make money. A couple of weeks ago I had ordered a pizza and a really cute pizza guy delivered it to my door while I was doing a shoot. I asked the pizza boy to join right in to make some great extra money. The two boys did such a great job in the shoot that I wanted them to come back and do another one together. My hope was that I would be able to get them to do more together in the next shoot. Sure enough I was going to order another pizza again to get Anthony to come by for the shoot. However, Anthony took the day off to do the shoot, because he was going to make more money doing the shoot.

I didn't waste too much time talking to them, before we were to get started doing the shoot. Anthony was a little shy and nervous about the dick sucking, but I told him that we would have Michael give him a blow job and hand job first. In order to get things moving along, I had the guys stand up and start to get undressed for us. As Michael took off his shirt, I remembered that he told us last time that he did gymnastics. Both guys got naked for the camera, and I saw the V-lines that Michael had on. I even touched it for a second to see just what they felt like. Sitting down next to each other, both guys sat with their legs wide open. Starting with Michael, I had him reach over and start to play with Anthony's cock. With just a little bit of touching, Anthony was getting turned on by that. Anthony took a hold of Michael's dick and started to stroke it slowly.

Since Michael was into guys, I asked him to start to give head to Anthony to see how he would like it. After only a moment, Anthony was acting like he was having an orgasm. Of course, I didn't want things to end so quickly, and then I remembered that Michael's tongue ring was probably bringing some extra pleasure to the oral. Anthony asked Michael to sit up so that he could be on his knees and could play with Michael's cock at the same time. Anthony was experiencing a lot of sexual arousal, and he dropped to his knees to begin giving oral for the first time to a guy. Licking the dick at first with his tongue, he started slow before swallowing it with his whole mouth. I noticed that he would let Michael give him attention for a while, and then when it got to be too much, he would then return the favor to allow himself a moment to calm back down.

For Anthony's second shoot he was really good about letting things happen naturally, and I could tell that he wasn't that nervous any more. He made sure that Michael kept his hand or body from blocking my shot. As the shoot progressed both guys got so horny, that they wanted to see the other one get off. Anthony was hair pulling, biting, spitting, and doing whatever he wanted to Michael. With Anthony moaning as loud as he was, I figured that he would clearly be the guy to pop his load first. However, I was wrong, Michael came right on his stomach a thick load. Anthony directed Michael to the floor right after so that he could play with his balls, while he stroked off. Michael sucked on Anthony's balls, fingered him and tried to get him off. However, no one could finger him better than Anthony himself. This boy loved to have his finger deep inside, and I that was getting me excited to see if he would get fucked.

Quickly moving to his feet, Anthony made Michael back as he came right on his chest. The load was a good size, and both of them looked like they needed a shower. I told Anthony that he was a nasty boy that liked to be on camera. I asked them both back for one more shoot together, and this time I wanted to see the two of them fuck. Keep watching to see just how that shoot will go.