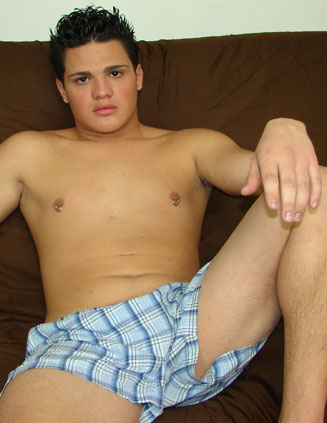 In lining someone up for the update this week I had came across a newbie, and his name is Steve and he is 19 years old. I picked up on that Steve was not from Florida and it only made me curious on where he was from. Moving to Florida he came here so that he could go to school, however originally his family is from Columbia. I asked him about his sexuality and he said that he was bisexual. With guys however, he has only been with a couple. Just to make sure I about what he had done with guys, he said that he was comfortable with both sucking and fucking. Steve pointed out that he was a little nervous, but we talked about what was going to happen. He was going to do a casting couch for us in that he was going to do a solo shoot. If that went well, we would then in turn invite him back for another shoot of which would be a duo shoot.

I asked Steve to pick out porn that he would watch during his shoot, and he said that he wanted straight porn. Starting to go for his clothes, he went for the shirt first revealing that he had pierced nipples, of which were recently done a couple of weeks ago. In looking over his body he was nicely tan, and had more of a jock build to his body frame. Keeping his underwear on he took a seat on the couch and played with his cock to work on getting it hard. Watching his hand go up and down under his boxer I was trying to imagine how big his cock was. Steve stood up and dropped them to the floor. Revealing that he wasn't completely hard, but his cock was getting bigger. Getting comfortable on the couch he would rub his chest and play with his nipples as he stroked his cock. His cock became rock hard and I noticed that he would slow down the stroking he was doing as to not blow his load too soon.

His face began to show that he was enjoying everything, and his finger started to drop down south of his cock. I noticed that he was trying to press on his g-spot with his finger. For a few seconds there I thought his finger might slip and go in that tight ass hole of his. Changing positions he got more in a laying down position, to play with that bubble butt ass of his. See for yourself in that it is smooth, tight and just bagging for a tongue or dick to play with it. I started to think of some of the models that just might be a good fit for Steve in front of the camera. He has a great smile that lights up his face and makes him look so young. That is when I snapped back into the shoot when he told me he was going to blow his load. He came right on his lower stomach right at the base of his cock. In asking Steve he said that he was ok in doing a shoot with a guy, and so I will see about having him back soon for another shoot.