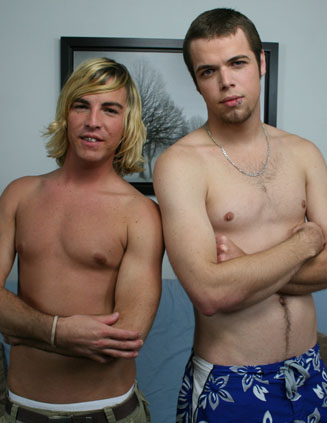 I had setup to have Diesel come back for another shoot and this time we had planned on going down to the beach since the studio is only a few short blocks away. Diesel showed up a little late, but we walked down to the beach. The walk allowed me to get to know him better than I did when I first met him. He sounded like a really great guy, who originally moved down here for work. In the course of doing that the business was having a hard time, which meant that Diesel was making no money. That is when he found our ad in the paper and decided to give us a shot to see if this would be the opportunity to get his life back on track.

Along the walk down there, Diesel pulled out his smokes to have a cigarette and this skater stopped to ask if he could have one. Passing him one, Diesel was fine in giving him one and we started striking up a conversation with this surfer/skater boy. His name was Ethan, with blonde, shoulder length hair, smooth skin, and some slight pelvic lines. He was a hot boy, which seemed to be enjoying his time along the beach. One thing that caught my eye was that he seemed to be a little high, but he laughed and said no. I told him what we really did and that we were in the adult industry. He kind of acted like he was interested, then took his cigarette and skated off. Diesel and I figured that we would finish trying to scout out a place to do the photo shoot. As we had continued up the beach after a while Ethan came back and approached us about doing some work to make some extra money. I kept the talk about what would happen light since we were out in public, and the boys agreed to go back to the studio to do a shoot.

Once we were inside I had Ethan tell us a little more about himself. He is straight, never done adult work, and he has two girlfriends at the same time. I asked the guys if they would be ok with jerking off next to each other with a porn playing in the background. They both were ok with everything so far, and so I had them stand up to take off their shorts. Ethan was very tan, smooth, and had the surfer hair cut. Diesel had some chest hair, very white, and had a jock build. Taking a seat back on the couch both guys started playing with their cocks. Watching Diesel jerk off, he didn't take half of the time it took him to get hard in his solo shoot. Ethan was rock hard sitting back watching the porn. He just had to give his cock a couple light strokes to keep his cock rock hard.

Starting with Diesel first, I had him reach over and touch Ethan's dick for the first time. He slowly reached his hand over and took a hold of the cock, and started to move his hand up and down. Ethan said that it was weird, but felt good as well. I wanted to make sure that Diesel stayed hard as well, so I had Ethan reach over and do the same. In talking about Diesel's cock size, he said that he sometimes hurts girls while having sex. I paused for a minute and asked them if they wanted to make some more money. I told them that I wanted them to suck dick, and would pay them $500 more for doing it. Ethan agreed to going first, and he leaned over opened his mouth wide. Diesel put his hand on the back of Ethan's head, but he didn't like that too much. Ethan must have been doing a good job, because Diesel commented that he was enjoying it. I just had to remind him to not use any teeth. Sucking the cock for a while, Ethan's mouth was starting to hurt from stretching so wide to fit the giant cock in his mouth.

Trying things the other way, I had Diesel return the favor to Ethan, and wanted to see how this straight boy would do sucking his very first cock. Ethan yelled out for him not to use his teeth after he just got started. In watching him go down for a moment, he would work his way down further each time he came down. He of course, tried quitting on me, but I reminded him of how long Ethan had to go for. Standing back and watching this go one for a few minutes, they were doing really good. I had Diesel use his tongue a little bit on the tip of the cock, and that only happened for a second.

Going back to jerking off, I put a little wager on the line, and said I would give an extra $100 to the guy that came first in the shoot. Reaching over and grabbing the lube bottle Ethan knew that would help him get there faster. He handed the bottle over to Diesel, so that he could use it as well. We were only a minute into the jerking and Ethan started to breath really hard out loud. He shot his load on to his stomach and it was a large, runny, and a clear cum load. As he was calming down from his orgasm, Diesel shot his load up straight into the air. Most of it landed back onto his dick and hand, but it too was a great size load. They both did such a good job, that I told him that I would give them both the extra $100. I asked them to come back the following day, and would have a surprise for them both. The surprise idea kind of scared them, and so they really wanted to know what it was going to be. I told them that I was going to pay them $1000 for coming in to do another shoot for us. Laughing they knew that they were going to make some serious money for all the work that they were going to do. I look forward to having them both back for more work, and watching them taking things a little further next time.