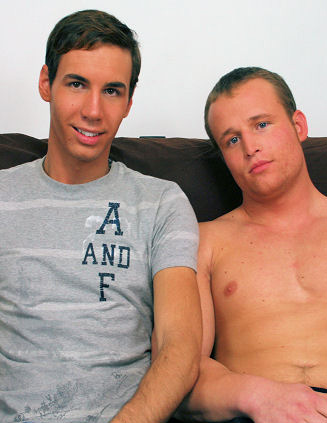 Kent came back for another shoot, and I was glad to hear that he was able to squeeze us in for another shoot while he was here on vacation. I had Chad stop by to do a shoot today as well, and I was hoping to see if I could get Kent to do a fucking scene with him. I came right out and asked him, and Chad said that he wanted to fuck Kent. Kent wasn't down for doing any fucking, but Chad yelled out $2000 for doing the fucking. That seemed to get Kent's attention, because he said that he would fuck Chad for that money. We also agreed that he would receive oral from Chad as well. Once everything was settled then we were clear to start the shoot.

Both guys stripped out of their clothes and began touching themselves. I then had Chad start to give Kent head. Right away, it took only a moment before that limp cock turned into a raging boner. I was very glad to see that we wouldn't have any problems with hard issues. Kent said that it depends on the situation, but that it is often a mix-up on who gives better head guys or girls. It was clear to me that Chad was doing the guys proud in the shoot. Kent yelled out, "Fuck" several times in the shoot from all the deep-throating that was being done. Listen to him moan and breathe from the pleasure he was receiving. Honestly, I just wanted to get to the fucking as quickly as I could, because of it being his first time fucking a guy.

Putting on the condom, Kent was ready to shove his cock right in there. Chad didn't slow him down, and slowly they were able to make some movement. Kent questioned himself on if he was doing the fucking right, and I told him to treat Chad like he was one of his bitches. Once, Chad was relaxed and Kent was comfortable they started to go faster and the dirty talking started. Chad wanted to be pounded by the muscle boy that was behind his asshole. Chad flipped over and was ready for some more pounding. Watch how the two of them are able to keep going, and I don't have to say much to them. It was good to hear the two of them talk dirty throughout the shoot, and specially for the fact that Kent got more into the shoot then.

The two of them were able to go at it, and it was such a turn on that Chad was going to bust his load with Kent pounding him so hard. Kent pulled back, and took the condom off so he could get ready himself. Chad came right on his lower stomach a thick, white load that was easy to see. Kent moved in a little closer, and then started to yell really load. He came right over the same place that Chad had came. Both did a great job, and ended the scene with a high-five.