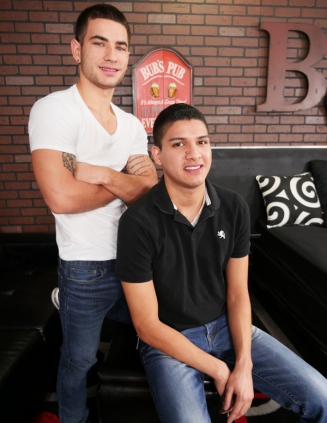 Ricky Evans doesn't like wasting time with small talk, he knows exactly why he's here and he likes to get right to it, and it doesn't seem like Vadim Black minds that! They kiss, locking lips for a bit before losing their clothes and taking a seat back on the couch as they continue their make out session, grabbing each other's dicks as they kiss.
Ricky is the first one to give head, going down on Vadim and working that cock with his mouth until it's good and hard, and then Vadim returns the oral, deepthroating Ricky's sweet cock. But Ricky isn't done with Vadim's dick, he blows him again, licking his balls and drooling on that juicy prick until Vadim can't hold back any more and bends Ricky over to claim that tight ass! He fucks him hard, smacking that ass while Ricky strokes his own dick with Vadim's dick buried inside of him.
Vadim holds Ricky's legs up, spreading that ass while he pounds him, then doing it doggy style, making Rikcy's ass bounce as he thursts into him again and again. Vadim lets Ricky be in control as Ricky climbs on top of him and sits on that throbbing cock, riding Vadim's meat while he jerks his own dick until he cums everywhere, then Vadim bends Ricky over and drops a huge load on his back!