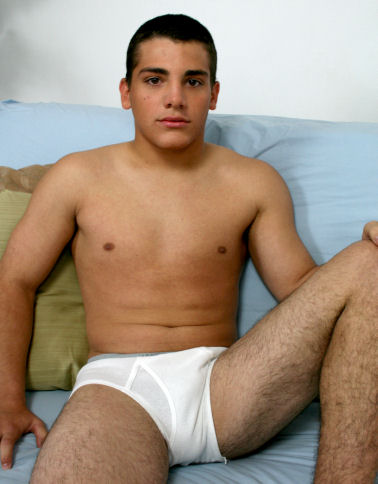 I would like you to meet, Giovanni from Boston who came down to south Florida on vacation. While he was down here he was surfing the web one day on his laptop, and he got a pop-up to a site for us. He took a look and thought that it was something that he could do. However, he is straight so looking at the site, he said that he didn't get turned on. Giovanni is a full time student, and he just needs to get a hold of some extra cash. He likes to take his girlfriend out a lot, and this is something that could help to make that a little easier. Also, he was a little concerned about her finding out, however I told him that unless she goes to gay sites, I don't think he would have a problem.

Moving the shoot along I had Giovanni take off his hat just to ensure that he had hair and was not bald. He then kept going, but stripping off his shirt, to show that he had a smooth, tan chest. Removing his shoes, we kept the conversation going by talking about the sports that he is interested in. Really, he is into wrestling, and even got a scholarship for it. Getting down to his underwear I had him kind of model his pair of briefs for us, so that we could see what his body looked like. Turning around we were able to get a good view of his butt, and then he showed his soft cock as well. Taking a seat on the couch I asked him to get comfortable, and he started to pump his dick. Watching the porn he kept his eyes glued on that, I had to keep the sound up on the T.V., because that was helping him get hard.

He got a boner! Giovanni was able to get hard in his first shoot rather quickly, and was doing ok. He sat back at an angle, so that he would be a little more comfortable. As he stroked his cock, he would play with his balls at the same time. I noticed that he just seemed to keep stroking at the same pace the whole time. He might change things up by touching different parts of his body, but that never slowed him down. I could tell that his muscles in his legs were starting to tense up, and that he was breathing a little faster. I knew that he was getting close to having an orgasm, but was holding back. Signaling to Giovanni that it was ok for him to plow his load, he just kept going. Then after a few minutes, he told me that he was going to blow his load. I moved in a little closer to him, and was able to catch the load being sprayed on his stomach. Really the majority of it went right in his pubs. He said that he would like to come back again, and I told him that he passed the test. I told him that we would have him back for sure, but next time would include some more surprises, and money. He asked if they would be good surprises, and I am sure he will be little shocked. Let's see what happens next time.