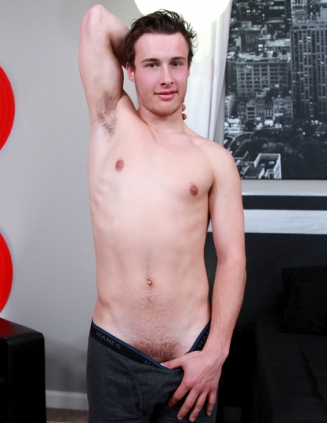 Dylan Sharp is a hot young stud who's into tennis, golf, rock climbing, and fucking chicks. He's not in school right now, he's working part-time, and he's single...all those things add up to horny guy with too much time on his hands, which means a whole lot of jacking off!
So he's come to show us what he's got, and as he gets undressed and shows off his lean body and big cock, we know we're in for a treat! He teases his dick through his boxers first, getting it worked up before he strips down completely and heats things up. He massages his meat, and once he's worked it up until it's standing at attention, we get to see just how thick and juicy it is!
He makes himself comfortable on the bed, showing off his little virgin asshole as he strokes his dick from behind before laying back on the bed and closing his eyes as he jerks his cock. He works his slippery member hard and fast until he lets out a few moans and shoots his load all over himself and the bed! What an impressive cumshot... but just 'cause he's willing to jack off for the camera doesn't mean he's willing to fuck another dude, but we'll see about that!