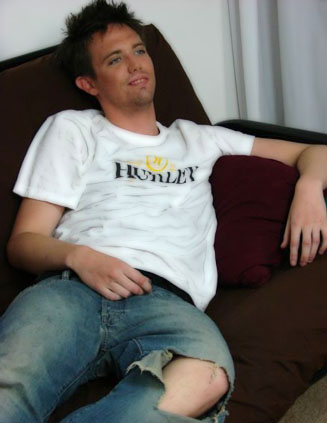 Let me introduce you to Kyle, he was a referral from one of my local models. Kyle was in town for a little trip to see his friend and heard about an opportunity to make some money being on camera. Kyle told me that he was 21, and from California. Right now, he has been going to school overseas to get into the medical field. In doing so, this has caused him to go far in the hole and he would like to try to dig himself out. Kyle said that he is straight and that he just had broken up with his fiance who he had been with for almost 5 years. They met during the start of high school and became lovers, however she started becoming a real bitch recently, in Kyle's words. So, he dropped her and decided to go for the single life.

I explained to Kyle that he was just going to be doing a test solo shoot, where he was just going to jerk off for us. From that then I would see about getting him into future work. He stood in front of me, and started to get undressed. Right away, I had noticed that he was tall, and had a lean build. He took off his shirt, and I could see that his pants were about to fall off as well. Kyle stripped down to his boxer briefs and took a seat on the couch. I put on a video for him to watch and he started to touch himself to get turned on, but I told him to just go ahead and drop the shorts so we could get started. He stood up once more and took them off. His nipple ring caught my attention and he had said that it hurt a lot to get them done.

Pulling on his cock like it was a yoyo, not a whole lot seemed to be happening. He was very still in his body motions except for the little movement of his hand. However, there was life in his penis when it started to grow, and become a boner. I knew that he was nervous, so I just wanted to let him do his thing. Moving around him, when I would get closer with the camera his cock size would go down. When I backed away and seemed to be more like a plant in the back of the room he was able to focus more. Kyle did change positions for me and laid down so that he could be a little more comfortable when it came to trying to go for the money shot. But, his cock could not stay hard in this position and I was a little bummed, so we went back to sitting on the couch. He played with his nipples a little bit, and got more turned on by that. He started to move his body around, and that had given me the signal that he was starting to have his orgasm, even though there wasn't a sound coming out of this boy. In watching him like a hawk over his prey, a quick sudden burst of cum shot out of his cock and landed just above his belly button. The rest went on his lower stomach, and was a decent size and color. Kyle didn't do a bad job for his first time in front of the camera.