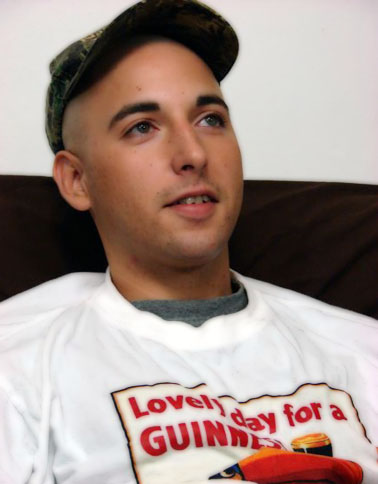 Be prepared to be amazed by this weeks update here on Broke Straight Boys, because this boy just kind of fell into my studio and blew me away. His name is Rusty, and he is 22 years old, and broke to all limits. He found us through googling and finding our site, because he wanted to make some money. In finding out a little information about him I learned that he is straight and has a girlfriend. What caught my attention right away with Rusty is that he loves anal play and his response was that he does it all the time with his girlfriend. Rusty started the shoot by getting undressed, stripping off all of his clothes and taking a seat on the couch. He started to play with his dick, to get it hard. In looking over Rusty's body he didn't have the hottest looking body that we have had here on Broke Straight Boys. However, his ass play had me interested to see what he could do.

Rusty grabbed the lube bottle and started to stroke his cock to get hard. He started to get hard and went right for fingering himself. I just filmed him, doing what he liked to do for fun. He took a hold of his water bottle that was sitting on the table next to the couch, flipped it upside down and started to try and stick it in his asshole. I was shocked to see that he was getting close to getting it in. Rusty tried a couple of different positions on his knees and then on I told him to try it on his back with his legs in the air. Wait and see how wide he could open his asshole for us to see deep inside. Once he was able to get the bottle inside he was able to move it around. Then, he reached for this monster dildo to shove up his ass. He was very comfortable doing all this in front of the camera doing this.

I had Rusty work on trying to keep his boner while he was doing all the anal play for us. I have never had a model in all my filming that was this open and wild with the toys. He actually took the dildo out of his ass at one point and stuck it in his mouth to get it all wet, before putting it back in. He stuck most of his hand in his ass and I could tell that he was very turned on during the shoot. Rusty turned around with his ass pointed to the camera and worked on fucking himself with that bottle again, and I was glad to see that he didn't stay in one position for very long. He stopped me at one point and wanted to see if I wanted to see some self sucking. There aren't very many guys that can do that, so of course when he offered I wanted to see it happen.

Flipping upside down he was able to get his tongue to touch the tip of his cock. He tried a couple of different times, and he didn't mess the opportunity to have a couple of fingers in his ass. He started to use the dildo again and placed it in his mouth for some oral action. I didn't think that he would face fuck himself with a toy, but he did with some deep throating as well. To top off the shoot he tried to fist himself for a few seconds. I told Rusty go ahead work on giving me a cum shoot and while he did that he kept all the ass play going on. We actually stopped everything at one point, because he told me that he just couldn't seem to get close to having an orgasm, so I told him not to worry about it, from the show that he put on. Look forward to seeing if we will have Rusty back to maybe do another shoot for us.