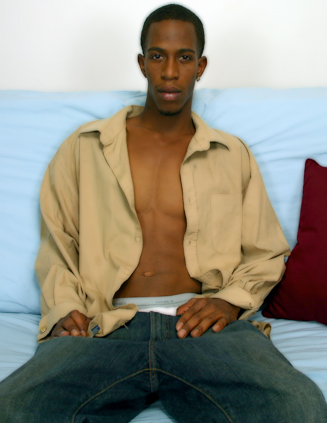 Justin was a local guy that came to me looking for work, and to make some money. He was 21 years old, straight/curious, and interested in getting started right away. I did call Justin out on what his curiosity of guys was all about, and he told me that he never really thought about sex with another guy, but more or less doesn't shy away from looking in the locker room. He doesn't have a job, or go to school, but he does screw around with girls all day. I told him that we were just going to have him jerk off, and that if he did a good job that we would have him come back to do another shoot with us. In taking off his shirt, I could see that he had some tattoos on his arms. He didn't slow down and went for his pants as well, as he stood up in front of me. I felt very short compared to him being next to me, but he didn't stand for long. Sitting on the couch he reached for the lube to see just what I had to offer him.

Stripping off his briefs he took a hold of his cock and started to play with it. I could tell that it was huge by the fact that it didn't all fit in his two hands. That is when he told me that his cock gets 11 inches strong, and that his girlfriend loves every bit of it. Taking a handful of the lube he applied it to his cock and started to get hard. When you have a big dick like Justin, it does take a lot to get it fully hard. After a few minutes he was able to get it to a point where he was able to use just one hand to stroke it. Watching the video I had on it seemed to catch his concentration, and he was able to stay pretty hard in the shoot.

He would rub the tip of his cock with his thumb to get turned on and more excited while jerking off. Stroking his cock he would keep his hand mostly on the upper part of his dick, because that is where it was the more sensitive. Justin really didn't make any noise while he jerked off because he was nervous about his performance. As we got closer to him shooting his load, the cum oozed out of the tip down the side. Afterward we talked a little bit about doing another shoot, and I joked around about him doing it with a guy. He told me that he would just have to see what he would be comfortable with. I am sure that we would all love to see that big dick go inside some guy's ass for the first time here on Broke Straight Boys.