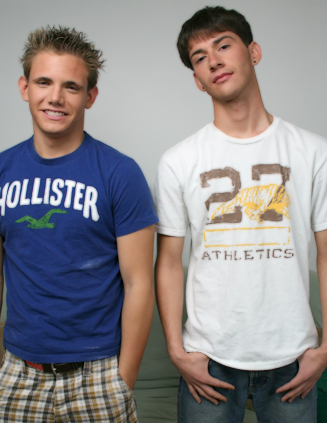 Once in a while we get a special request from members that would like to see some models together. We had done a poll on the site and the members voted that right now Nikolas and Anthony are the two hottest models for the site. One of the members wanted to see the two of them mess around and fuck together. He even had setup to finance the shoot in order to get to see it. I called up each of the models and asked if they would come in to do a shoot together. When I got them together and explained what we would be looking to do, they didn't really know what they would be comfortable with. The only reason why they even did any of this is the check that they get at the end that goes to pay the bills that they are in disparate need to take care of.

Since, the last time we have seen Anthony he has had his 21st birthday, and he has gotten a new girlfriend. I told him that by doing the shoot he could use the money on her, but he didn't really know what he was going to spend it on. As far Nikolas, he is still 20, and is still with the same girlfriend, but bored with the relationship. He too has no idea what he would spend the money on. I had the two of them strip their clothes and show off their bodies for the camera. Turning around I had them show me their asses and back sides before they took a seat. Nikolas had went out the night before clubbing and ended up having sex with another girl other than his girlfriend. Jerking off to the video they both were working on getting hard, and it was becoming a little boring with no noise and little action. I asked Nikolas if he would suck Anthony's cock, and he just wasn't in the mood. However, when I throw in another $1000 for him to start sucking we were going to get the show started. He tried very hard to get out of it, but I told him that it wasn't going to be that bad. He leaned over and started to do it, but acted like the precum was killing him. Gagging and coughing this boy would not get into it. Anthony on the other hand was trying to block out the image of Nikolas on his cock. With the attention that he was receiving Anthony was not getting hard from the oral and the jerking off.

I asked Anthony to go ahead and return the favor and both were trying to get out of it. Anthony grabbed the cock and played with it for a second before putting the tip in his mouth. Lowering his mouth down the dick he was able to put more in his mouth. Nikolas was staying rock hard from this, even though his face was not showing it. As soon as they paused I told Nikolas to jerk Anthony off at the same time, and Nikolas's cock was being very sensitive, so he was making some very ugly faces from the blow job. However, once we seemed to work out the kinks they seemed to go better from that point. Nikolas had Anthony just concentrate on his balls by licking and biting them, and that seemed to be going better, because Nikolas did end up shooting his load right on his stomach.

After Nikolas came it was now time for Anthony to share his load with us. They changed positions and he started to watch the video and just pay attention to what was happening in the video. He lubed up the cock, and he was rock hard in the shoot and we were able to see just how giant his cock was. With a warning, I told him to blow his load whenever he got to that point. His very thick load went all over his stomach and was a decent size. They admitted that the shoot wasn't that bad, and I lead into them that maybe next time we could see a little more from them.