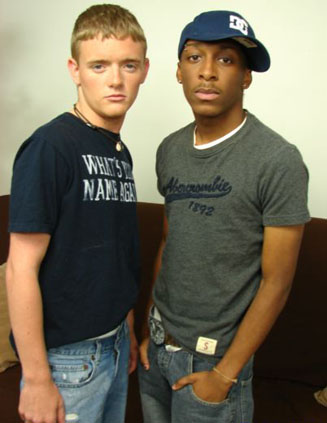 Ricky and William are back for another shoot and this time they're doing a shoot together. They both did such a great job in their solo shoots that I wanted to get them in for some duo action as well. Ricky is still very broke, and he is saving his money for a place to move into. William is using his money to put down a nice down deposit on a car, and then comes a place to movie into. I went over the shoot and explained that I would like them to jerk off next to each other and probably jerk each other off as well. Both said that they were down for the shoot, and were fine with it. Standing up they started to get undressed next to each other, and I had to ask them to move closer to fit in the same screen. They sat down in their briefs and started to play with themselves. Ricky started to touch Williams cock on the outside of his briefs and William did the same thing but sent Ricky into shock with his cold hand.

William got a huge boner, and wasn't afraid of showing it off to the camera. Ricky was being a little shy getting hard, but once he felt confident he took his briefs off. William starred at the dick and was turned on by seeing it. The two of them touched each other and rubbed each other's bodies. Ricky showed off the pre-cum that William was getting at the tip of his penis. I told Ricky that he could suck the dick and he said that he would try. Bending over and taking the cock in his moth he started to lick the tip of his cock, and right away started to deep throat his huge cock right down to the base. I was a little shocked that this white, straight guy was taking it all for his first time. William liked it because he put his hand on the back of Ricky's head, and said that he was enjoying it.

Ricky kept going and he started to jerk him off at the same time of giving him head. Quickly, I saw Ricky reach over and grab a hold of his dick. Squeezing it tightly he tried to stop the flow of cum, but it was too late. The cum shot out like a cannon and went all over his cock and Ricky's hand. Ricky licked the cum, and tasted it for the first time. Lifting his head up he showed the cum that got on his face. He was a little choked up on the cum he did swallow. After cleaning up he stood up over William forcing him to take the cock in his mouth and suck on it. William did it for a few minutes before he made Ricky return to the couch and jacking off. I asked William if he would suck on Ricky's balls while he jerked off to see if that would turn him on.

Tongue pressed up against his balls he licked them and played with them in his mouth. I was glad to see that he wasn't stopping right away because that is something that a lot of models would do. However, Ricky pushed him back when he was getting close to blowing his load and then gave me a warning that he was soon to shoot. The cum oozed out on his hand and all over his dick. He didn't get any on William, but he was ok with that. The two of them did a good shoot together and I was impressed with how much they did with one another. I thought that the shoot was only going to be jerking, and it turns out that we got a bunch more action. Who knows maybe I will get them back in here for some more work?