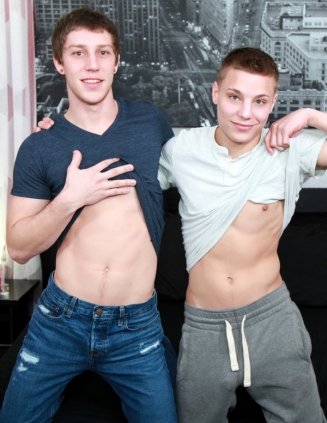 Tyler is a nervous wreck and he's dreading how it's going to feel to have a big cock shoved up his virgin ass...but after some comforting words he's willing to give it a shot! Paul, his more experienced partner, eases him into it, getting on his knees and sucking on Tyler's dick until he's got it good and hard, and Tyler does the same for Paul, drooling all over Paul's delicious meat as he fucks him with his mouth.
But Paul isn't satisfied with oral, he's looking to stick his cock in a different hole and he lubes up Tyler's tight virgin ass before he enters him slowly. Tyler lets out some moans of pain as his little ass gets used to the feeling of a dick inside it, but that doesn't stop Paul from fucking him deep with his throbbing bareback cock! It's hard to tell if there's any pleasure mixed in with the pain of Tyler's first time, but he takes that dick like a champ!
Once Tyler's gotten a good taste for bottoming for a dude, Paul pulls out and puts Tyler's throbbing prick up his own ass, riding him hard as they fuck raw. Tyler gets Paul on his back and pounds him hard until they both cum all over Paul's toned stomach!