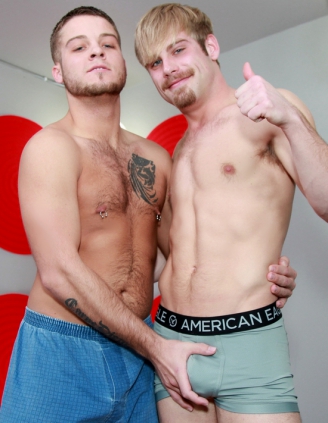 Southern gentleman Tate and gorgeous Greek god Zeno are a pair to be reckoned with! These two are freaks in bed and when you put them together things get real kinky real fast…and throw in a challenge to outdo one another and you've got a recipe for some very hot gay porn with some very sexy straight dudes!
They don't waste much time kissing before Tate moves right from Zeno's pierced nipples to his cock as they get right to the oral, with Tate showing Zeno his impressive cock-sucking skills and then his equally impressive skill at giving a footjob. Zeno gives Tate some head before getting his tight ass licked up and down and then fucked by Tate's huge dick.
And judging by his expression, Zeno's virgin ass must be real tight since taking that dick makes him cringe and maybe even shed a tear or two in pain…but now that he's got his ass-cherry popped he's ready to fill Tate with his own pierced prick and he fucks him bareback until he spills his hot cum onto his chest and Zeno busts a nut on top of him!