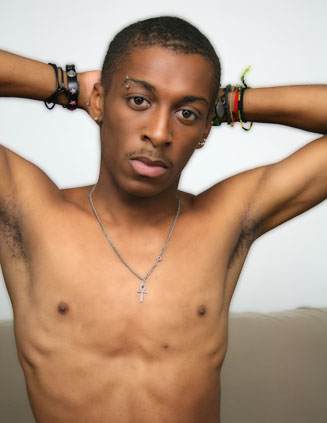 Will is 18, just graduated high school, and he came to Broke Straight Boys to make some money because right now he doesn't have a job. He found us online and filled out an application. I explained to Will that he was just going to do a solo scene for us, and jerk off. After that if he does well and wants some more work than we will bring him back to do some duo work. I explained to him that we were a gay owned and operated studio, and asked him what his sexuality was. He said that he was straight, and that he was a little nervous about the shoot. When I talked to him about doing anything with another guy he said that we would have to see.

Standing in front of me, he took off his shirt to reveal a very nice set of abs that he had underneath. Sliding off his pants he took a seat on the couch in his boxers and I told him to just play with himself. Grabbing a hold of his crouch and rubbing it with his hands he tried to get turned on watching the video. Will let out his dick for us to see, and then we were able to see just how big his dick was. As you can tell it kind of curves to his left a little bit but was huge. Putting some lube in his hand, I didn't want him to get lube on them so I told him to pull them down for me. When he stood up I had him show me his ass to see just what it looks like.

Returning to the couch he jerked off, and would rub and play with his balls. I asked Will if he could show me some of his talents and he could put both feet behind his head, but not at the same time. Then, he said that he could do a hand stand, and I wanted to see that. It is always cool when we could show off the models talents. I was able to check out his asshole in this position. After getting a little side tracked in the shoot, we had to return to jerking off and Will getting back hard. In beating off, he changed up the speeds and the ways he jerked off. However, when he got close to shooting his load he breathed a lot faster, and then his load shot out on his dick and then ended up in his hand, and on his lower stomach. It was a huge size load, and that would look great on someone's face. In asking Will about more work, he said that he would like to come back and would even consider jerking off next to another guy.