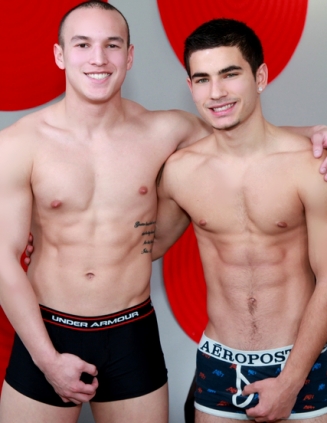 In case you missed it, Vadim's first time getting fucked by another guy was painful…but he's back and ready to take another dick up his ass! Hopefully his tight little hole has had some time to recover, 'cause Jj looks like the kind of guy that's not going to be too gentle. As these two get naked we get a chance to admire their hot, chiseled bodies and their perfect asses before Jj pounces on Vadim's cock, shoving it down his throat as it grows in his mouth!
As much as he enjoys slobbering all over Vadim's thick knob, he wants a turn of his own and stands up to let Vadim suck on his huge member. But once Vadim has worked Jj's cock up to full size, Jj jams it bareback into Vadim's ass, going slow at first since it looks like that mammoth dick of his won't even fit inside. But of course he makes it fit, and Vadim lets out some cries of pain as Jj goes deeper and deeper until finally he shoves that huge thing all the way in, getting balls deep into Vadim's tight ass!
Either Vadim is learning to enjoy getting his ass pounded or he likes a little pain with his pleasure, because he seems to be relaxing a bit as he gets fucked hard by Jj. And once Jj's got Vadim on his back, legs spread and dick in deep, he pounds him fast and hard before he pulls out and cums all over Vadim, and Vadim follows his lead as he works his cock until he explodes all over!