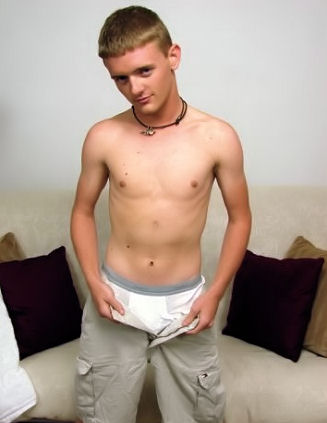 Ricky is 18, and was referred to us by his brother Chris who did a shoot with us a long time ago. Chris was in the military and was one of the original shoots that we launched the site with. Ricky was broke and needed to come up with the money to pay a down payment for rent. His brother told him all he had to do was model, and so he was down for doing a shoot. In the shoot, I told him that he was going to do a solo shoot where he just jerks off. Depending on how well he does, we would have him come back to do some more work, only it would be with guys. He said that he would be down with that, because he really needed the money.

Standing up Ricky started to get undressed in front of the camera. I noticed that he had a nice farmers tan going on from working all day in the sun. He said that he works out a little, and he seemed to be in good shape from it. Ricky had a rather smooth body, and even kind of danced as he took off his clothes. Sitting down he went for the lube bottle as he played with his cock trying to get it hard. Pulling on his dick the blood started to fill it, causing his cock to fill up his grip. When I told him that he could move around he, then started to change positions and got up on his knees. He moved his whole body as he jerked off, like he was fucking somebody. I noticed that with all the movement his dick got harder.

He would moan and breathe as he stroked his dick at different speeds. He asked if he could cum, and I told him that he could blow his load at any time. He asked me if he could try any position, and that is when he got upside down on the couch. He really concentrated on jerking off really hard, using all the muscle strength in his upper body. However, he just wasn't getting close in that position after a while, so he went to laying on his back. I told him that maybe he should play with his ass a little bit. As soon as he stuck that finger in his ass I got the idea this wasn't his first time of doing that. He moaned very loud, and I could tell that it was a good feeling for him.

I paid close attention to him, because as he got closer to having an orgasm his breathing changed, and so did his body movements. I was glad to see that he was getting close after a while. He finally came and his load went all over his chest, it was a clear color, so it was very hard to see. I told Ricky that I would have him come back to do another scene, and that next time I will have him do an oral scene with another guy. The good thing was that he will be straight as well, and won't have any idea that he will do a shoot with Ricky. I look forward to seeing how that shoot turns out. See just who we're going to match Ricky up with real soon.