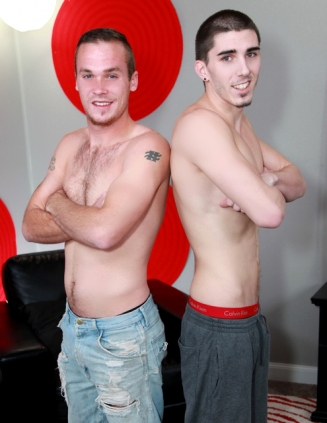 Romeo James has returned. With a new hairdo he doesn't want touched. Such a diva! LOL! He's paired with Damien Kyle, who is pulling at his dick.
Romeo has never met new cameraman Johnny, so they fist bump. Shakespeare's most rash character (grin), hasn't been doing much except for working. He's all ready for today's script, which includes him getting pounded.
"Making the scene," Romeo says when asked what was the strangest thing when he first came on the BSB set.
Johnny wants to know if Romeo is cool with gay sex. The veteran is comfortable with it, and gets when his joy button is pushed his dick is going to respond. However, it's still sort of strange for a straight guy to do gay sex.
During this entire conversation, Damien just tugs at his tool. Someone is ready for business! The boys get nude and Damien is ready to play. Romeo takes a seat and the lad-in-a-rush blows away.
"Oh, yeah. Suck that cock," Romeo moans.
Damien is more than ready to do what's asked. LOL! Even cups Romeo's cum filled nuts.
"You like that," Damien asks.
"Oh, yeah," Romeo replies.
"It looks like it," Damien chuckles as he strokes the tool.
Damien gets on the bed, and Romeo relearns his sucking skills. Even spits all over the meat to get it juicy. Damien puts his hand on Romeo's neck, as if to guide him to his crotch. Romeo knows what his mouth is for.
"Suck that dick," Damien orders.
Tears of effort stream from Romeo's eyes, mixing with Damien's pre-cum.
"Get your ass up and ride this dick," Damien commands.
Romeo lubes up his hole and takes a seat. He goes up and down the staff, taking all Damien can offer.
"Ride that dick," Damien groans.
Romeo works his ass muscles around Damien's dick, milking it for everything. It must be feeling good for Romeo because his sausage stays stiff!
Romeo gives Damien some romantic kisses before he turns around to face his scene partner. In this position, Damien pushes up, his balls hitting Romeo's butt cheeks.
Romeo gets on his back, and Damien leans in for a smooch. He breaks that ass seal again. One hand is put behind Romeo's knee. The other on the bottom's stomach. The fucking gets fast and furious, with Romeo gritting his teeth.
"Oh, I'm about to cum," he moans.
He does. The first stream hitting the bottom of his chest. Damien pulls out and strokes his pole for release. His jizz shoots out, landing on Romeo's neck.
Not only was the fuck vigorous, but Romeo's hair was left intact! That's a good day, no? :-) Stay around, Romeo. Your ass was missed.