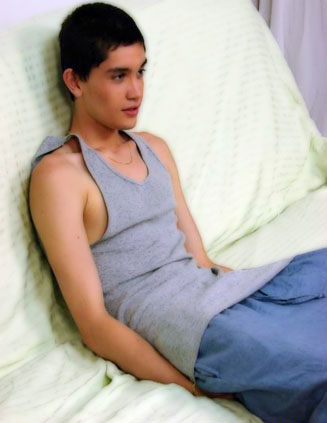 I invited Rabid to come back to us after a couple of weeks off to see if this was something that he could do or not, because the last time he was here he had some trouble performing. Since the last time he was here, he landed a girlfriend, and is still very much broke. Now, Daxter is back again for another shoot as well to be in with Rabid. Now, this was a complete surprise to both of them, and I wanted to see the reaction I was going to get out of both. Rabid wasn't very excited about $1500 for sucking and getting fucked for that amount. To see how smart they were I offered them $3000 to split between the both of them, but then they realized that it was still the same amount.

Agreeing to start the scene out slow, Rabid said that he would see how far he was willing to go. Daxter too had never done anything with a guy before, so he was just as nervous. Standing up both guys got undressed and as soon as Daxter turned to the camera I could see that he already had a boner going on. Taking a seat on the couch, the two of them were nervous in getting started, so I just instructed Rabid to start giving head. He leaned over and placed the erect, curved penis in his mouth and started sucking. He started with a bang, and Daxter placed his head on the back of Rabid's head to make him go further down. Moving to the floor, Rabid got into more of a comfortable position. As he went down on the dick, he was able to get most of it in his mouth. Deep-throating was something that Rabid was proving to be good at.

Watery-eyed Rabid said that he was ready for the fucking to begin, and Daxter was ready to give him a good pounding. Starting out on his back, Rabid took his position on the bed and just starred at the dick that was soon going to be piercing his tight little asshole. Slowly Daxter would push a little of his cock in and Rabid would tense up. As the movements began it was easier for Rabid to relax. Once the dick was all the way inside, the two of them started to get in a motion. Rabid started to breath, and enjoy it, and they started to move around at their own freewill doing it. As Daxter pulled back on the hips of Rabid, they would moan out load to show that they were enjoying it. Pulling the bed up with his hands, Rabid was gripping it, from the feeling of excitement.

Turning back over, Rabid returned to being on his back, and this was much easier to see his facial expressions. Daxter was able to go to town on the ass, and really pound away at whatever speed he wanted. There was a connection going on between them, and I was able to just stand back and tape it. They were so warn out from all the fucking that the two took a break for a brief moment before returning to the fucking. Rabid climbed on top of Daxter and started to ride that cock. I noticed that in this position his cock started to grow in hardness. They finally called it quits and Rabid went back to sucking cock for a few minutes, before he received a facial. The warm, creamy cum shot on his face, and he placed the cock in his mouth sucking on it afterward, sending Daxter into a deep moan.

That was a great shoot, and the two of them did very well with each other. They admitted that it was a lot of fun, and that it was not just for the money after they got started. I tried to see if I could get Rabid to cum, but he said that it wasn't going to happen. However, I didn't care because he took that cock like a champ.