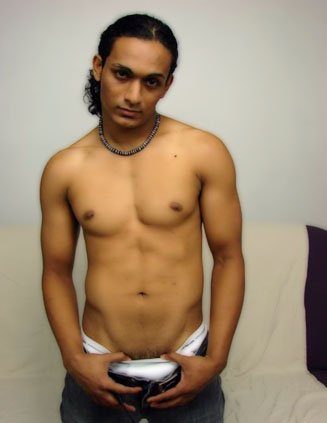 Laulin came to us looking for some extra money, he had found brokestraightboys.com and decided
to go ahead and give it a try. He filled out one of our online applications and I replied to it instantly. I
had him come in for an interview shoot, and he was excited to have a chance. He took a seat on the
couch and I began the shoot. I asked him to clear a couple of things up for me; the guys on the blogs
had been saying that they didn't think that our guys were real broke straight boys. I asked Laulai if
he was straight, gay, or bisexual he said he was bi-curious and had a girlfriend and had never been
with a guy before. I told him if he came in the shoot, that I would match him up with another
straight guy and they could fuck.

He picked out a straight porn to watch as he jerked off for this shoot. Laulai had a very nice, smooth,
toned body that he said he got from working out often. I had him take off his shirt and pants, so we
could see his underwear. He was wearing some sexy tighty whities, and as those came off I told him
I would throw the porn on for him. I told him to go ahead and jerk off and to make sure he told me
before he decided to cum. He began to stroke his cock on his back, while focusing intently on the
porn to get hard. He had a very sexy, uncut cock and it was growing faster with every stroke.

Every once and a while he would stop to look up at the camera and make sure we were still filming.
After a short while of him being quiet and focusing on the porn, I asked him if he liked the porn, he
turned to me and with a smile on his face replied yeah. As he was getting more into the jerking off
he began to touch his balls and chest too! He had a nice shaved cock and balls. He was squishing his
toes up because he was trying to get closer to having an orgasm. After a few more camera angles he
was starting to look like he was getting ready to cum. I panned the camera up to his faced and
noticed that he was staring hard into the camera.

After a little while longer of jerking off he looked over at me and said "It feels so good." I told him
that he could cum anytime he wanted I was ready for him. He begun to stoke his cock a little harder
now and was more focused on the porn. Before he shot his load he let out a few loud moans letting
everyone around that he was in extreme pleasure and was about to cum. He was moaning with the
girl on the television and you could tell by the look on his face that he was about to cum... He asked
me if I was ready and then after a bit more stroking he shot a HUGE load all over his cock. The cum
was running all down the side of his dick and down to his balls. He was still moaning for about two
minutes even after he had already cum. After he had a second to collect himself, I asked him if he
minded coming back to do another shoot. I told him that after that shoot I would schedule him a
time that he could come back and have sex with a guy for his first time!