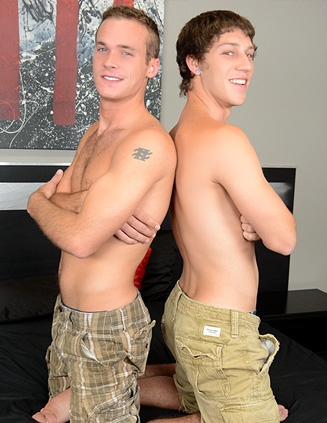 The last time we saw Messrs. Canon and James, Paul's hole was getting stretched by Romeo's rod. In today's update, the roles will be reversed.

"Today I'm going to pop this guy's cherry," Paul says to the camera. "And he's real nervous about it."

"Very," Romeo adds.

"Just think about the money," the cameraman notes.

Apparently Romeo has been moping about the BSB house, not looking forward to this. He at least has some sympathy from his opening day pitcher.

"I sort of feel sorry for him," Paul muses. "I know the feeling."

"Having some guy's cock in me is not too appealing," Romeo notes.

"It's not some guy," the cameraman explains. "It's Paul."

That, of course, is a major selling point for us watching! LOL!

They strip to their skivvies and start making out. After the romantic kissing, Paul puts Romeo's man meat in his mouth. As Paul orally caresses it, Romeo moans with pleasure. Paul removes his boxers, and Romeo gives a reach around.

There's a brief kiss before Romeo starts to suck Paul.

"Deep throat that dick," Paul orders.

Romeo doesn't have that skill yet, but he knows enough to keep things juicy and to slurp around the head. He's doing such a good job that Paul forgets about the deep throat request. In fact, he pulls Romeo up for a smooch.

It's cherry busting time. Romeo slathers his hairy hole with lube. Paul does the same for his sausage. The catcher assumes the doggie position, and Paul gets right behind. It takes a few times because that hole is tight.

"I promise to be easy," Paul assures.

Soon Paul is fully in. He slow strokes the bottom, who is on shock from all the sensations. Romeo grabs the bed's edge and holds on as he gets a good fuck. Paul thinks his bottom is used to being dicked, so the strokes get longer and faster. Romeo bites his lips and curses. That raw dick might be breaking him in two, but it feels too good to ask for mercy.

Paul gives Romeo a kiss, but doesn't let this romance keep him from getting his prize. Romeo gets on his back so he can feel the full length of Paul's cannon.

"Fuck me, bro," Romeo moans.

Paul gives Romeo's toes some kisses, as he goes balls deep in that virgin ass. Even slaps Romeo so he remembers who owns that booty.

"I want you to cum for me," Paul says.

Romeo does so, a juicy load that coats his side. Paul pulls out and stands over Romeo's open mouth. His cum covers Romeo's tongue and teeth.

Romeo rushes off set to get rid of his cum drink. Come on, Romeo! Think of it as a protein shake! LOL!